Springtime is a season of transitional weather for our area and we'll certainly see a variety of conditions this week.
Monday, for example, is warmer but not as sunny as what we enjoyed Sunday. Winds shifted and it's those southerly winds that will warm us into the middle 60s while skies see a combination of sun and clouds.
The brief warming trend continues Tuesday, however, it doesn't last through the end of the week. High temperatures will be below normal Friday and Saturday.
Changes in the temperatures will be accompanied by at least a couple of rounds of spring showers and possibly thunderstorms.
The first storm to impact the tristate region already spread clouds into the northeast Monday. Rain, though, will hold off until later this evening and thunderstorms are possible overnight into early Tuesday morning.
The same large storm system will boost temps into the 70s and give us a chance of more showers and thunderstorms Tuesday.
After a nice and sunny day Wednesday, another storm system starts moving into the area Thursday morning. This second storm won't be as quick to move out -- clouds and the chance of showers are likely to linger into Friday. This will make for a chilly and breezy afternoon at the ballpark with a chance of scattered showers.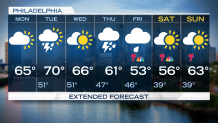 Finally, the week ends on a cool, but dry, note Saturday. And, Sunday is looking good with sunny skies and the beginning of a warming trend.