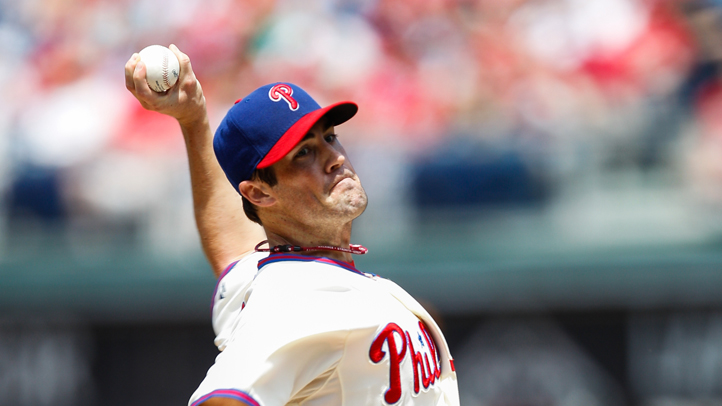 The Philadelphia Phillies will send three players to Kansas City in a week to represent the National League in the All Star Game, as starting pitcher Cole Hamels, closing pitcher Jonathan Papelbon, and catcher Carlos Ruiz have all made the cut, according to MLB.com's Todd Zolecki.

Not a lot of surprises there. Papelbon has been one of the best relievers in the National League this season, Hamels has similarly been great, and Chooch has been, far and away, one of the top five players in the league.
It's the third appearance for Hamels, the fifth for Papelbon, and the first for Ruiz, who was the benefactor of a pretty impressive campaign over the last two months, as fans stuffed the ballot box to get him to be the top vote-getter among National League catchers. Unfortunately, the effort fell short, and that honor will go to San Francisco's Buster Posey.

The biggest disappointment, I think, is that Carlos Ruiz will not be the starting catcher, despite being – hands down – the best catcher in the National League. It's not that Buster Posey is bad, it's just that Carlos Ruiz has been out of this world in 2012.

Not only is he leading the National League in hitting (.358), he is also third in on-base percentage (.423), fifth in slugging (.585) and third in OPS 1.008. That's impressive on it's own merit, but when you consider that he is a catcher and is thus more prone to being worn down, it's even more-so.

More than anything, that speaks to the flawed voting mechanism that the All Star Game employs, as it is up to the fans to decide who gets to be the starting players. Of course, that results in votes going to players not because they are the best, but because they are popular. Unfortunately for Chooch, the fans favored popularity over actual skill and performance.

Ah, well. Lamenting over the starting players in the All Star Game is akin to crying over spilled milk, because it's an exhibition that a lot of players don't even want to take part in that comes down to a popularity contest due to the way the voting is structured. I'm sure they are all honored, but it's a long season, and the handful of off-days sometimes doesn't cut it.

Still, it's pretty amazing that Ruiz – who just a few years ago was "that light hitting catcher with plus defense" - has turned into one of the best hitters in the game.