Thousands of police officers from around the country turned out to pay respects Wednesday to a rookie Pennsylvania police officer who was fatally shot during a traffic stop last week.
Law enforcement officers from as far away as Colorado and Rhode Island joined students and residents lining the roads as Officer Brian Shaw's funeral procession moved through the streets of New Kensington. Some held handmade signs, such as one that read, "God Bless Officer Shaw." The mile-long line of police cruisers followed the hearse from the funeral home to Mount Saint Peter Church.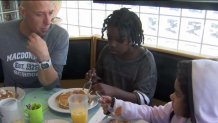 The 25-year-old officer was shot and killed Friday night when he tried to pull over an SUV for a routine traffic violation.
Mourners remembered Shaw for his smile, twinkling eyes and devotion to his job.
Frazer Police Chief Terry Kuhns, who was Shaw's boss before he joined the New Kensington department, said the officer once told him he wanted to make a difference in the world.
"It is not how officers die that make them heroes, it is how they lived," Kuhns said during the funeral Mass. "Clearly Brian tried to make a difference — and did make a difference — and lived his life as a hero."
Local
Breaking news and the stories that matter to your neighborhood.
The Mass was broadcast to the hundreds of mourners outside and could be heard all throughout the block.
Afterward, the vehicle procession wound its way to the cemetery for a private burial. In front of the hearse was Shaw's cruiser, draped in black ribbon with bouquets of flowers strewn about the hood.
Authorities have charged 29-year-old Rahmael Holt with fatally shooting Shaw.
Officials have said Shaw stopped a vehicle that Holt was riding in, and Holt fled on foot. Shaw, who was wearing a bullet-proof vest, pursued Holt and was shot several times. It doesn't appear that Shaw returned fire.
Holt was arrested Tuesday after a multiday manhunt.
Among those watching the funeral procession was a group of about 60 Valley High School students and faculty gathered near the church.
Senior Ian Henry told the Tribune-Review he was there to show support to Shaw's family and other officers.
"We hope that they'll see how important they are to us," Henry said. "Our cause is to make sure Officer Shaw won't be forgotten."
Copyright AP - Associated Press