BARCELONA — The soft red glow of hundreds of candles could be seen from down La Rambla, a popular thoroughfare for tourists and residents in Barcelona, Spain.
Those gathered around their flames had tears in their eyes. Some sang songs, played the guitar or hugged each other.
They were there to honor the 13 people who died and more than 100 who were injured Thursday in an apparent terrorist attack.
Up and down the very same road a driver plowed through pedestrians just 24 hours earlier, flowers and handwritten notes remembered the destruction left in its wake.
Memorials sprouted up in areas where individual people died, including a small child who one witness said appeared to be "sleeping" in their final moments.
"This is not a way of living," said Juan Bautista Garvers, a tourist from Argentina, pointing to a brown stain on the ground.
"We can't be here killing each other. Everyone remembers Sept. 11th, Paris, Germany, London. It's just so sad."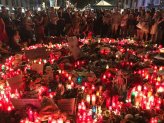 Garvers and his wife were on their third visit to Barcelona, strolling down the relaxed corridor of La Rambla with its Gothic architecture and labyrinthine alleyways, when they saw a van careen down the main walkway. Some pedestrians jumped out of the way in time, but countless others could not.
Local
Breaking news and the stories that matter to your neighborhood.
"It was so painful, so difficult, seeing a little one like that," Garvers said.
Throughout the day Friday, mourners paid homage to the place where that child and several others died. Two people held signs offering free hugs to strangers. Many accepted the offer.
Then, as the sun set and La Rambla sprang into nightlife, hundreds of demonstrators gathered for an anti-fascist and anti-terrorist march.
They chanted "No fascism in Barcelona" and "Fascism is terrorism" as police watched from the sidelines. Cars pulled over to let them pass.
"It's been a very sad mood, a very somber mood," said an Englishman named Arthur, who declined to provide his last name. He said this march was an attempt to prove that Barcelona would not be intimidated by terrorists.
Tourists who refused to change travel plans expressed similar determination.
New Jersey resident Zhannetta Cheshun said she didn't even consider rescheduling her 10-day trip. She would fly to Spain with her children and husband, board a cruise liner and explore the Mediterranean unfazed, she said. After all, Barcelona would now be "the safest city in the world" as police closely monitor the Spanish haven, she said.
But one thing did give the Cheshuns pause. Their friends and travel companions were trapped inside a cafe just one block from where Thursday's attack happened. Police would not let them leave, and the cafe owner closed the gate to prevent anyone from getting inside.
Cheshun worried about their safety when she first heard news of the attack, but quickly resigned herself to continue as planned.
"I never wished to live in this kind of world," she said, adding that her husband is a 9/11 survivor.
On the Streets of Barcelona After Deadly Terror Attack
Alex Cheshun worked in the World Trade Center and stopped for coffee the morning of Sept. 11. The detour added 10 minutes to his commute but potentially years to his life, he said.
"There is nothing we can do about it," Cheshun said, with an air of inevitability echoed in parts of Barcelona and other cities impacted by terrorism.
At the Barcelona airport, a family from Delaware patiently waited for their luggage to arrive. Two pre-teens blew gum bubbles as their mother, Amy Cole, tried to herd the lot. Her family would soon embark on a Disney cruise departing from Barcelona and, after two years of planning, the Coles would not turn around. Instead, the mother of two explained to her daughters that the world is filled with terrible surprises.
"We tried to talk to them in terms they understand," Cole said. "But you have to keep living. Anything can happen at any time."
[NATL] Photos: Deadly Terrorist Attacks in Barcelona, Cambrils
In the streets of La Rambla, Leah Israel, a tourist from the country of Israel, was thankful for the moments of solidarity that came after Thursday's attack. She recalled hearing screams and seeing people scatter when the car tore down street. All of a sudden chaos erupted, she said.
"I started calling for my mom and she was yelling my name," Israel said. "We saw a baby doll drop on the floor. People just dropped whatever they had and ran."
Employees at a nearby market distributed free food and beverages for people trapped inside during the attack, Israel said. It was a hint of the unity that continues to be shown throughout the city despite fear of what could happen next.
---
NBC10 Digital reporter Alicia Victoria Lozano is reporting from Barcelona, Spain in the wake of Thursday's terror attacks. Look for her reports on the NBC10 app and NBC10.com. Follow her on Twitter or visit the NBC10 Facebook page for live reports.