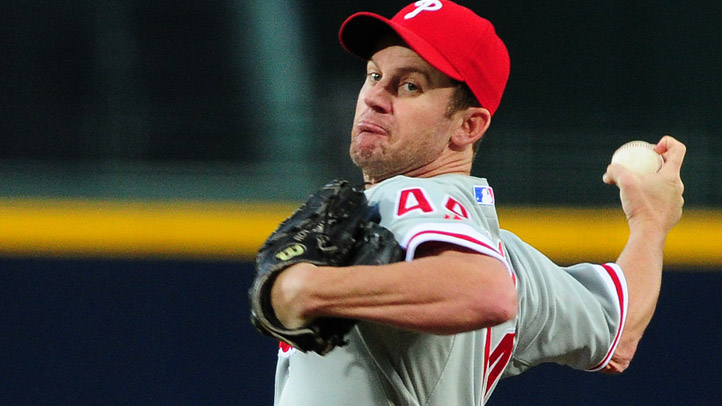 While most of us spent Monday night talking about how painful it was to watch Roy Halladay struggle in his second straight outing, former Phillie Roy Oswalt was talking about something entirely different. Namely, a return to the Philadelphia Phillies.

Shortly after Halladay was lifted from his start against the New York Mets, Oswalt took to Twitter for the first time in ten months to talk about how great he feels, and how he would "love to come back to Philly."

Interesting. While the Phillies were scrambling to construct a rotation during the winter, I don't know that anyone really every considered the 35-year-old Oswalt, who was traded to the Phillies during the 2010 season. And now, it would seem, he would be open to returning to the City of Brotherly Love.

Now, we can reasonably assume that Oswalt's Twitter account could have been hacked, and that it was some joker (probably a Braves fan) rubbing salt in the wound of the Phillies faithful. But considering that the tweets still exist, and that Oswalt hasn't made mention of any such tomfoolery on his account, it's safe to say that it was, in fact, Roy Oswalt tweeting about the Phillies shortly after Halladay got shelled by the Mets.

While Oswalt did go on to tweet that his previous comment had nothing to do with Halladay (he claims he was answering a question asked by a fan), it does seem peculiar that one of his first tweets since last August had to do with returning to the Phillies.

Maybe I'm reading too much into this – and it's entirely likely that I am – but it seems that Oswalt hasn't hung up his spikes quite yet, and that he is not-so-subtly putting it out there that he needs a job. Maybe "needs" is the wrong word, but you know how semi-retired athletes get when the season starts up again. Sometimes, that urge to play ball is far greater than the urge to relax in a hammock all day.

Having said that, would Roy Oswalt be able to help the Phillies in 2013? That's a bit of a loaded question, because even though we are only one week into the season, it's worth wondering if the Phillies are beyond help at this point. But, yes, Oswalt could help the Phillies in some capacity. Despite a so-so 2012 where he had a 5.80 ERA in 59 innings with the Texas Rangers, the right-hander figures to be an improvement over at least 40% of starting pitchers currently employed by the Philadelphia Phillies, even if said improvement is that you make it more than five innings without allowing six runs.

The upside to signing someone like Oswalt is that he'd be cheap, he'd only require a one-year deal, and his outfield experience already makes him a much better option in the lineup than either John Mayberry or Laynce Nix.

Before anyone gets their hopes up however, the reality is that Oswalt is probably not at all likely to return to the Phillies in 2013. If he was to return to any team, odds are he would pick one that wasn't an absolute mess during the first week of the season. That said, anything is possible, because no one thought that Pedro Martinez would be pitching in the World Series for the Phillies in April 2009, either.

And while a reunion of The Phour Aces would admittedly be kind of cool, the fact of the matter is that all it would really succeed in doing is making us remember how the 2011 season was ruined by an utterly disappointing stint in the playoffs.