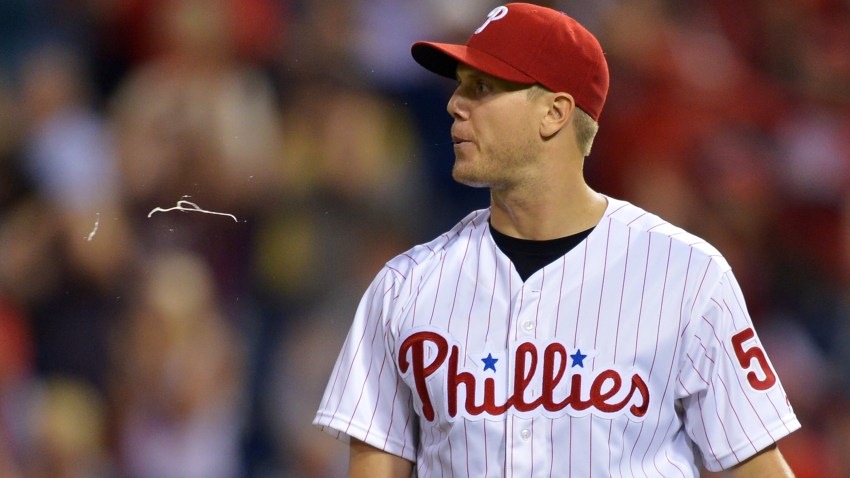 When Jonathan Papelbon signed with the Phillies prior to the 2012 season, it appeared to be the next logical step in Ruben Amaro's master plan of acquiring as many elite pitchers as possible. After all, when you have three marquee starting pitchers and are riding a streak of five consecutive National League east titles, you need to make a big splash if you want to get the job done, even if it flies in the face of any sort of logic, at least from a cost and personnel standpoint.

The signing had plenty of critics early on, mostly because Papelbon, for all his talent, is a relief pitcher who isn't likely to see more than 70 innings of work over a given season. Despite his pedigree of success with the Boston Red Sox, paying $13 million a season for a closer was not a prudent investment, especially when there were other areas in need of improvement.

Bad signing or not, Papelbon was aces in his first season with the Phillies, when he made 70 appearances and logged 38 saves to go along with a 2.44 ERA and 11.8 strikeouts per nine innings. He was as advertised, and despite a disappointing season from the Phils, Papelbon stood out as one of the few bright spots on the roster. He chased that success with with 13 straight saves to kick off this season, a span where he had a 1.46 ERA in and 23 strikeouts in 24.2 innings. He was about as good as a closer could be.

And then, inexplicably, the wheels started to fall off. He blew his first save on June 17. Then another on June 19. Then another on June 22. Again, on June 24. Four blown saves in a matter of a week. And while some of them can be written off as bad luck, it was tough to ignore, especially when he blew another save on July 14, and then another on August 1. And despite the Phillies walking away with the win on Tuesday night against the Chicago Cubs, Papelbon entered the game with a four run cushion, and just barely escaped with the 9-8 win. He allowed three runs (two earned) on three hits and a walk in what was nothing short of a nerve-wracking outing from the 32-year-old closer.

Diagnosing a player's performance from your couch is never a wise, or easy, thing to do, but in Papelbon's case, there are a few obvious things at play.

Bad Luck – I've talked about this before, but sometimes, a pitcher's (or hitter's) success is a product of luck. Typically, this is measured by BABIP, or batting average on balls in play, with the logic being that most pitcher's will have a BABIP of around .300, regardless of their skill level. To wit, Phillies Ace Roy Halladay (.295) and former Phillie Adam Eaton (.301) have a BABIP within splitting of each other, despite being wildly different pitchers in terms of success.

For Papelbon, in the 24 games prior to his first blown save, he had a BABIP of .197, which is well below the average for pitchers, and almost 100 points lower than Papelbon's career BABIP of .281. In the 20 games since, he has a .354 BABIP (19 K in 20 innings). That swing, which has resulted in more balls finding the holes and dropping for hits, has – among other things – resulted in a 4.50 ERA over his last 20 games.

Ks Go Away – When you're a relief pitcher, your best weapon is likely the ability to strike out opposing hitters. That is especially true when a reliever is called in from the bullpen with a runner on third and nobody out, because the best way to prevent that run from scoring is making sure the batter doesn't put the ball in play. Despite Crash Davis' objections to the strikeout in "Bull Durham," it's the best weapon in a pitcher's disposal, because it takes bad luck and bad defense completely out of the equation.

For much of his career, Papelbon has been an exceptional strikeout pitcher, with an 11.2 K/9 in six seasons between 2005 and 2012. While he is still able to get set hitters down via the K, his strikeout rates have dropped in 2013, where he sits with a K/9 of 8.5. It's a pretty steep drop from the 11.8 mark of 2012, and would be the lowest of his career if the season ended today. While it's not a bad number, the fact that he is striking out fewer hitters this season than literally any other season in his career is certainly not doing himself any favors. In his most recent blown save, which occurred against the San Francisco Giants, he failed to retire three hitters that he had buried in 0-2 counts, before giving up a pair of hits and a walk. That sort of thing is bound to happen eventually, but you have to be able to put away hitters when you have them buried in the count, something that it seems Papelbon has been able to do less and less this season.

Speed Matters – Speaking of strikeouts, it helps if a pitcher has the ability to hump that fastball and blow it by the hitter. Speed isn't everything – just ask Greg Maddux – but it helps. And although he's never been known for his velocity like Justin Verlander or Aroldis Chapman, he's always had the ability to deliver his fastball in the high 90s. Since 2007, he's been about as consistent as all get-out with his fastball, averaging 94 MPH on that pitch from 2007 to 2011. He lost a bit on it in 2012, with an average velocity of 93.8, but the most concerning number is 92.2, which is his average fastball velocity in 2013. That's a long way to fall, especially when you use your fastball to set up your other pitches. If you want to strike fewer guys out, I can think of no better way to accomplish that than losing more than a mile per hour on your fastball.

He Doesn't Want to Be Here – For all his faults, Papelbon is a competitor. More often than not, he'll get the job done, and over the course of his career, he's been one of the better relievers in the game. But following 2012's disappointing finish for the Phillies, combined with 2013's struggles, it's entirely possible that he simply doesn't want to play in Philly anymore, which would make sense in light of his "I didn't come here for this" comment a few weeks back. I can't say that I blame him, because no one wants to play for a bad team, but given how far the Phillies have fallen in the last two weeks, you have to wonder if perhaps he is mailing it in as they head for another playoff-less October.

At any rate, Papelbon is on the low end of the scale when it comes to fixing this Phillies team. Sure, he's paid way too much for a reliever, and appears to be losing a bit as he ages, but he's certainly not the reason the Phillies are in this predicament. That said, come this off-season, it wouldn't surprise me in the least bit to find that he has been traded elsewhere, in Ruben Amaro's attempt to right a sinking ship.