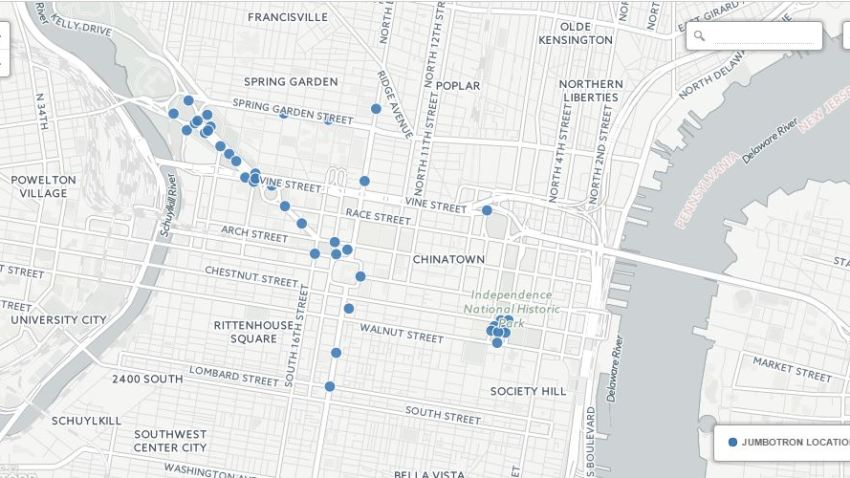 40 jumbotrons are part of the "block party" atmosphere World Meeting of Families organizers expect to create on the Francis Festival grounds this month when Pope Francis caps off his U.S. tour in Philadelphia.
The giant TV screens will show the close-up views of Pope Francis during his three public events in Philadelphia which include Saturday's immigration speech at Independence Mall on Sept. 26, then the evening's Festival of Families on the Parkway and Sunday's 4 p.m. Papal Mass.
Here's where you'll find the Jumbotrons:
Local
Breaking news and the stories that matter to your neighborhood.
• Benjamin Franklin Parkway Stage Left (South side of Eakins Oval)
• Benjamin Franklin Parkway Stage Right (North side of Eakins Oval)
• 24th Street & Park Towne Place
• Binswanger Triangle (South Side)
• Binswanger Triangle (North Side)
• Von Colln Field South West
• Von Colln Field North West
• 19th & Spring Garden Streets
• Spring Garden Street between 16th and 17th Streets
• Broad & Green Streets
• Benjamin Franklin Parkway between Oval & 22nd (West) Street
• Benjamin Franklin Parkway between Oval & 22nd (East) Street
• Benjamin Franklin Parkway & 22nd Street
• Benjamin Franklin Parkway between 22nd & 21st Streets
• Benjamin Franklin Parkway & 21st Street
• Benjamin Franklin Parkway & Winter Street (On triangle grass area)
• Benjamin Franklin Parkway & Winter Street (Corner)
• Benjamin Franklin Parkway & 20th Street
• Logan Square & 20th Street
• Logan Square & 19th Street
• Logan Square & 18th Street
• Benjamin Franklin Parkway & 17th Street
• John F. Kennedy Boulevard & 16th Street
• Arch Street & 15th Street
• Municipal Services Building Plaza (Southwest)
• Municipal Services Building Plaza (East)
• City Hall — Market Street East
• Sansom Street (East of Broad Street)
• Broad & Spruce Streets
• Broad & Lombard Streets
• Broad & Wood Streets
• Independence Hall Stage Left (North of Chestnut)
• Independence Hall Stage Left (Block One Center)
• Independence Hall Stage Right (Block One Center)
• Independence Hall Stage Left (Block Two Center)
• Independence Hall Stage Right (Block Two Center)
• Independence Hall Block Two Center
• Independence Hall Block Three South (furthest grassy area from Independence Hall)
• 5th Street, North of Chestnut Street
• Franklin Square (North West Corner)