If you're an Eagles fan and believe in the "Curse of Billy Penn," your stress levels must've been through the roof as the Comcast Technology Center soared higher and higher into the sky alongside the Birds' impressive 10-1 winning streak.
Well, you no longer have to worry about a jinx getting in the way of the team's Super Bowl aspirations. And you can thank a few Philly ironworkers for that.
On Monday, crews topped off Philadelphia's newest and tallest skyscraper by welding lateral beams into place on the Comcast Technology Center's lantern (the fancy name for this building's architectural spire).
Attached to that steel — 1,121 feet above the street — is an American flag, an evergreen tree, and a minature statue of William Penn.
John Demming, vice president of corporate communications for Comcast Corporation, confirmed on Thursday the statue's installation saying ironworkers rushed the beam into place to avoid the curse from impeding the Eagles' playoff chances.

As Philly lore states, the city's professional sports teams were cursed in 1987 when One Liberty Place was constructed. It was the first building to soar over the statue of William Penn on top of City Hall. At 945-feet tall, One Liberty is nearly 400-feet taller than Billy Penn's hat.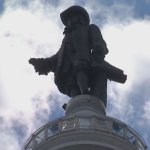 Prior to 1987, developers adhered to a gentemen's agreement that the statue remain the tallest point in the city.
Local
Breaking news and the stories that matter to your neighborhood.
Twenty years passed with no championship wins for any of the city's professional sports teams. Then, in 2007, Comcast Center became the city's tallest building. Hoping to break the curse, ironworkers welded a minature Billy Penn statue to the highest beam.
The following October, the Philadelphia Phillies became World Series champions.
With this latest Billy Penn installation, there are now three Billy Penn statues crowning Philly skyscrapers: the original 37-foot tall bronze on City Hall and the two minatures on both Comcast towers.

The topping off officially makes the Comcast Technology Center the tallest building between New York and Chicago. The $1.5 billion, 60-story tower designed by famed architect Lord Norman Foster will become the new home to NBC10 and Telemundo62 when it is completed in 2018. The tower will also host Comcast developers and, on the building's upper 12 floors, a new Four Seasons hotel.
Inside Look at Comcast Technology Center's Luxury Four Seasons Hotel