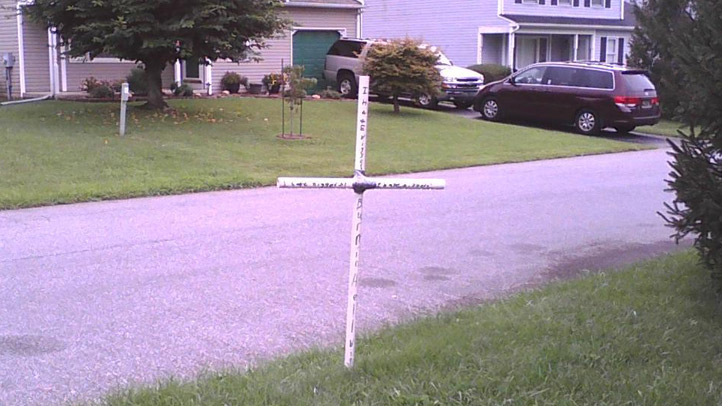 Police arrested two teens for allegedly planting a cross with racial slurs painted on it on an African American man's lawn.

It happened sometime between Sunday night and Monday morning in the Delaplane Manor community in Newark, Delaware.

Wayne Parson, the 58-year-old homeowner, notified police after finding the cross while checking his grass around 10:30 a.m. on Monday.
"It said 'I hate the n-word,' three times," said Parson. "At the bottom it said 'burn in hell.'"
Parson, who has lived in the neighborhood for 22 years, said he was shocked.
Local
Breaking news and the stories that matter to your neighborhood.
"It was clearly unexpected. I get along with all my neighbors."
Detectives conducted numerous interviews throughout the neighborhood before identifying a 16-year-old boy residing in the unit block of Delaplane Avenue in Delaplane Manor as the suspect.
Police contacted the teen's father who cooperated during the investigation. They then searched the teen's home and found PVC pipe and tape used to make the cross. They also linked evidence collected from the cross to the teen.
The teen is charged with harassment and a hate crime. His arraignment is pending.
Police also arrested a 15-year-old boy who lives on the 200 block of Oakfield Drive in the Scottfield community in Newark. Police named the teen as a suspect and he responded to county headquarters early Tuesday night.
After an extensive interview, detectives confirmed his involvement in the crime. Police also say that the two teens are friends.
The 15-year-old is charged with second degree conspiracy, harassment and a hate crime. He was arraigned and committed to a juvenile facility after failing to post $4500 cash bail.