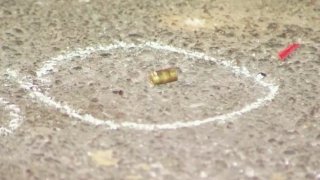 A teenager was shot numerous times in a shooting in West Philadelphia and died a short time later Friday, police said.
The boy was shot 13 times near 55th and Market streets around 8:20 p.m., police said. He died about 30 minutes later at Penn-Presbyterian Hospital. On Monday, police identified him as Jalen Jones who lived nearby.
Another person, identified only as a 39-year-old man, was also shot in the gunfire that killed the teen. The older victim suffered a bullet wound to his right leg, and was taken by a car to Penn-Presbyterian, where he was recovering, police said.
No motive for the shooting was initially identified. No one has been arrested.
Philadelphia has been struggling with deadly gun violence.
As of the end of Sunday, at least 228 people were killed in Philadelphia, a 33% year-over-year increase after 2020 ended as one of the deadliest years on record.