Four men were arrested Tuesday morning following a tense standoff with a Montgomery County SWAT team in Plymouth Township, Pennsylvania.
Police said the men broke into a house and threatened the homeowner with a gun, shoving the firearm into his mouth. Authorities credit the watchful eye of a neighbor with alerting them to the escalating situation.
The ordeal unfolded around 8:20 a.m. when longtime Cambridge Road resident Carol Bergman was watching TV with her husband and noticed someone across the street exit a truck wearing a mask and hooded sweatshirt.
"It startled and scared me," she said.
Two men approached the home, knocking first on the front door and then the back door. When no one answered, two more suspects jumped out of the truck, opened a window to the home and climbed inside, police said.

Bergman called 911.
By the time police arrived, three people were seen running down the street. All three were apprehended, Plymouth Township Police Chief Joe Lawrence said.
Local
Breaking news and the stories that matter to your neighborhood.
One of the men was the victim, who escaped during the chaos that ensued. He was released after questioning.
"This is really crazy," Bergman said of her normally quiet neighborhood. "I was very upset."

When law enforcement approached the victim's property, they were greeted by an armed man wearing a face mask. He ran back inside the house and barricaded the door.
The victim told police the suspects hit him over the head, put a gun in his mouth and threatened to kill him.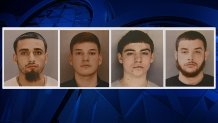 The standoff lasted approximately three hours, Lawrence said. During that time, a SWAT officer came into Bergman's home and used a second-floor room to get a better vantage point as police negotiated with suspects to surrender.
Shortly before noon, two of the men could be seen on live TV surrendering to police. Wearing dark clothing, the pair emerged from the victim's house with arms raised. They walked backwards until SWAT members could safely take them into custody.
The suspects were identified as 18-year-old Jason Hutton, 18-year-old Walter Mattis, 22-year-old Anthony Sabatino and 31-year-old Anthony Ferliano. All four are Philadelphia residents, Lawrence said.
Police are investigating if there is any connection to other burglaries in the area.
"We think it's a group of four people who were bored, got in their truck and drove up to the suburbs of Philadelphia to look for an easy place to break into," Lawrence said.
"We believe it was random."
The victim, is in his 70s. He sustained non-life threatening injuries during the scuffle.
Bergman has lived in her home for 50 years and estimated that the victim has lived in his, alone, for at least 35 years, she said.