For the second time this week, a substance was discovered floating on the Schuylkill River Thursday evening, prompting an emergency response from fire and environmental protection officials.
The shiny material that appeared to be foamy as well was spotted floating south along the waterway through Center City near Chestnut Street around 7 p.m., fire officials said.
The Philadelphia Fire Department dispatched a hazmat crew and contacted environmental protection officials, the department said.
The substance could be oil, officials said, but they are not certain. The U.S. Coast Guard is responding to the incident, a spokesperson said.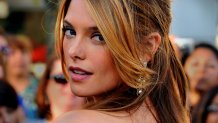 The material was found in the same area that an oily substance was discovered on Monday. The substance and what caused it to enter the river was never identified.
A third substance was discovered Wednesday afternoon in Manayunk. Janina Andrusyna shared photos of a bright green substance, resembling the color of anti-freeze, emptying into the Manayunk Canal. The canal runs alongside and connects with the Schuylkill River.
Andrusyna said she was walking along the canal's towpath when she spotted the green water flowing from a drain near Main Street and Leverington Avenue.
Local
Breaking news and the stories that matter to your neighborhood.
"We have seen some 'foamy' liquid and some creamy/yellow 'water' draining into the canal in the past, but what we saw yesterday was even more disturbing," she said.
While it looks dangerous, the green liquid is actually harmless says Philadelphia Water Department spokeswoman Laura Copeland.
It's a dye called Fluorescein which is used to trace sewer and water line connections to homes and businesses. Workers used the dye to see if any wastewater lines were improperly connected to the sewer causing sewage to spill into the river, Copeland said.
"The dye is harmless to humans and will have no environmental impacts," she said.
It has also been used in sinkholes in the past.
Copeland urged residents to call the water department's emergency hotline if they spot any issues: 215.685.6300.