A Rowan University student was burned after a portable cellphone charger exploded in his pocket, Gloucester County emergency officials and witnesses said.
The student was sitting in the school's Chamberlain Student Center around 7:30 p.m. Thursday when the charging went awry.
Alex Revolus was sitting near the student when he caught whiff of a burning smell. Then the student screamed, according to Revolus.
"His hand was black because he tried pulling it out of his pocket," the engineering student said. "His pants were actually stuck to his skin."
The student was taken to Kennedy Memorial Hospital in Washington Township for treatment. He suffered 3rd degree burns to his leg and hand. He's since been released from the hospital.
The student center was evacuated for a time due to the incident.
Rowan University officials said they've been unable to determine the make and model of the portable charger because the device was so badly burnt. The student doesn't remember the model information either.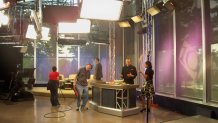 The Consumer Product Safety Commission has issued a number of recalls for electronic devices with lithium-ion batteries -- the most notable being the Samsung Note 7 smartphone -- over fire fears.
Local
Breaking news and the stories that matter to your neighborhood.
This latest incident at Rowan has some students who were planning to get a portable battery charger rethinking a purchase.
"Now I'll just stick with the plug-in ones," student Khenny Emile said.