Flags in Delaware were lowered to half-staff as memorials popped up and a fund was set up in honor of fallen state trooper Cpl. Stephen J. Ballard, who was gunned down in a Wawa parking lot.
A gunman shot the 32-year-old husband and father to a 5-year-old daughter shortly after noon Wednesday outside the convenience store on US Route 40 in Bear, Delaware.
"This is a sad day for our state and for the Delaware State Police family," state police superintendent Col. Nathaniel McQueen said as Gov. John Carney stood at his side in the hours after the shooting.
Delaware State Police set up a memorial fund Thursday for Ballard at the Delaware State Police Federal Credit Union -- checks should be made out to DSTA-Stephen Ballard Memorial Fund, PO Box 168, Cheswold DE 19936
Wawa also announced Friday that they would be collecting donations of $1 or more at the register of any of its 40 Delaware Wawa stores that will go toward the police memorial fund. Wawa pledged to match the first $50,000 in donations.
"Everyone at Wawa joins the entire community in mourning the loss of Cpl. Ballard and we want to extend our deepest condolences to the family and loved ones of Cpl. Ballard as well as to all of the Delaware State Police," John Sharpless, director of store operations for all Delaware Wawa stores, said. "Cpl. Ballard's memory will live on forever."

Local
Breaking news and the stories that matter to your neighborhood.
"I stand before you with an aching heart … that aches for Ballard, his wife, his daughter, his family," said an emotional Carney Thursday afternoon. "This is a time to mourn, to mourn and to lift up our own."
Ballard was described as a loyal and dedicated police officer who served more than eight years on the force. Several colleagues choked back tears during a news conference Thursday, touting the bravery and commitment Ballard showed during his time as an officer.
"We have lost another officer who dedicated his career to noble public service, Carney said. "He went to work every day putting his life on the line to protect the rest of us."
Carney ordered flags in the state to be lowered to half-staff.
Since the killing, people dropped off red, white and blue candles, balloons and flowers at the Wawa and Troop 2, Glasgow, where Ballard served, to pay tribute to fallen trooper.
Cpl. Ballard attended Delaware State University, studying sociology and criminal justice before graduating in 2007, DSU spokesman Carlos Holmes said.
Funeral plans were pending Friday.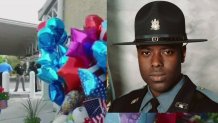 Investigators said the deadly ordeal started when Ballard saw two suspicious-looking people sitting inside a red Dodge Charger at Wawa around 12:30 p.m. Police did not say what drew Ballard's attention to the vehicle.
He approached the men and a struggle ensured, police said. The passenger got out of the car and fired several shots at close range. Ballard was struck in the upper body. He never had the chance to pull his weapon or return fire, authorities said.
The suspected shooter, later identified as Burgon Sealy Jr., fled to a home in the Brick Mill Farm Development in Middletown -- about 15 miles away. An hours-long standoff ended Thursday morning with police shooting the suspect.
Investigators asked anyone who may have witnessed Ballard's killing to call Det. John King at 302-698-8561 or contact Delaware Crime Stoppers.
Wawa planned to reopen its Bear store Saturday morning.
Copyright AP - Associated Press