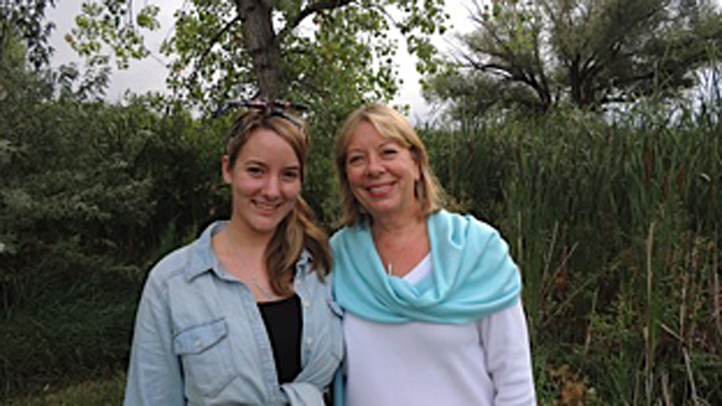 Michaela Havlish was three years-old when her father Donald Havlish perished in the Sept. 11, 2001 Attacks on the World Trade Center.
He was on the 101st floor of the North Tower.
"Being a 9/11 child has been an interesting experience," said the 15-year-old. "Having my dad die at a young age, I didn't understand. Now, I understand it a lot more. It's become a lot more real."
Local
Breaking news and the stories that matter to your neighborhood.
Michaela says she now understands the enormity of it and that "people are not coming back."
About a year after the attacks, Michaela and her mother Fiona drove around the country on a trip of gratitude. It was the first time Fiona had been west of Columbus, Ohio.
The westward journey left an impression on the the Havlishs prompting the pair to move from Bucks County, Pa. to Boulder, Colo. in 2005 for healing.
"It gave us a chance to get on our feet again," said Fiona Havlish. "There was incredible outpouring of love. It shifted the way I looked at life. Now, I don't want to leave here."
The pair moved back to West Chester in 2008 to help care for Fiona's ailing father, but returned to Boulder in 2010 -- where they've remained.
Michaela sees a future on the East Coast. Her dream is to attend New York University's Tisch School for Musical Theatre. She sings and has added dancing and acting to her pursuits.
"They [9/11 kids] learned you follow your passion and the rest will fall into place," said Fiona.
A typical teenager, Michaela's learning to drive and is a sophomore in high school. She does feel a little different from her classmates, however.
"It separates me from all the other students at school. It affects friendships and stuff," said Michaela. "A lot of my friends are not liking their parents. For me, I'm very close with my mom. Probably because I lost my dad. She's my mom and my dad."
The kids in Colorado, Michaela believes, don't really understand the enormity of Sept. 11.
She feels the East Coast is more conscious of what happened that day, and that's what's pulling her to want to come back.
Michaela feels her dad around her all the time and sees signs of him -- a feeling she says brings her comfort. She may look up at a clock and see the time is 9:11 or she may glance at a license plate with numbers that brings him to mind.
Following the attacks, Fiona kept a journal of her thoughts, writing every entry with her daughter in mind.
She's taken excerpts from the journal writing and wrote a book with a working title -- "An Unexpected Journey," reflecting on her first year after Sept. 11. She started the book in 2010 and expects to self-publish this winter.
"I never really had a good cry," said Fiona. "There was never time. I kept pushing back the grief. Writing the book was a healing experience."
Fiona hopes to impart the positive lessons she's learned along her journey and to inspire others as a life and health coach, her new career.
This 12th anniversary, the Havlishs plan to spend a quiet day together to reflect. They will go to a creek in Boulder and throw roses into it and have lunch afterward with relatives.
"There's not a day that goes by that I don't think of him," said Fiona. "I'm so glad I had him as a husband. I still miss him. I have been given amazing gifts that day amongst the rubble in life. I'm fine," Fiona said.
Michaela wants the world to know, "I'm doing good."
---
Contact Sarah Glover at 610-668-5580, sarah.glover@nbcuni.com or follow @skyphoto on Twitter.