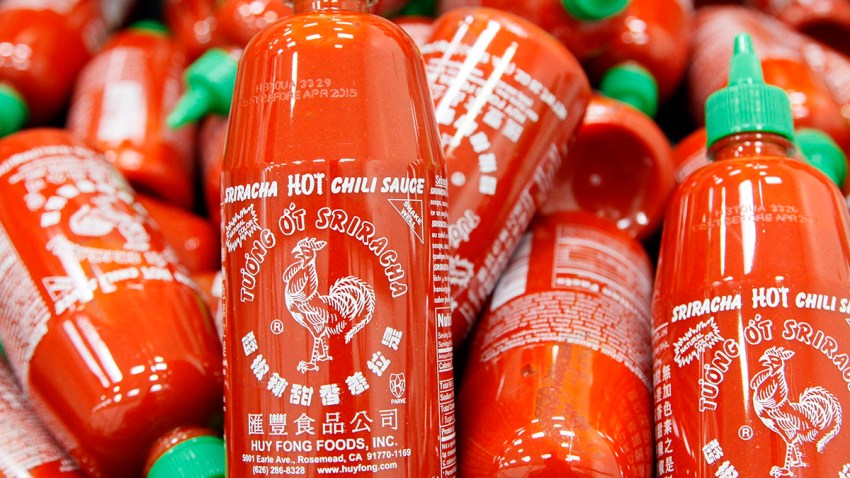 What started as a pipe dream to bring the maker of one of America's favorite seasonings -- currently caught in a windstorm over its stench -- to Philadelphia gained some steam today.
"We started out kind of tongue and cheek but it seems like it's getting a little more serious now."
That's how Philadelphia Councilman at-Large Jim Kenney describes his office's efforts to bring Huy Fong Foods -- the maker of uber-popular Sriracha -- to Philadelphia.
Local
Breaking news and the stories that matter to your neighborhood.
The possibility of the red rooster sauce with the green cap being produced in Philly seemingly gained some steam Wednesday when news broke that a judge in California issued a partial shutdown order for Huy Fong's Irwindale plant.
County Superior Court Judge Robert O'Brien ruled that Huy Fong must cease any production that causes stinky odors until they can fix the issue. About a month ago, Irwindale sued the hot sauce maker after residents complained of annoying and irritating smells coming from the factory located about 20 miles northeast of downtown Los Angeles.
Kenney is working on a plan that would allow Sriracha to operate despite the smell.
"The fact that this judge has precipitated this action keeps the conversation going and we'll see where it goes," Kenney said.
Huy Fong's next move isn't clear -- the company didn't respond to a request by NBC4 Los Angeles for comment -- but Kenney said that he is already working to find a spot in the city where the company can operate without fumes bothering the neighbors.
"We're gonna start moving forward in a serious way to locate a property that makes sense for (Huy Fong)."
Back on Oct. 31, Kenney sent a semi-joking letter to Huy Fong CEO David Tran inviting him to Philly.
In a letter responding to Kenney's invitation, Huy Fong left open the possibility of bringing production to the City of Brotherly Love saying Tran was "humbled" by the invitation.
"We are grateful that you and Philadelphia are concerned and care about our company," the glowing letter, dated Nov. 12, states. "Your invitation was truly inviting (and enjoyable to read). It uplifted us during this serious situation.
"Before we even consider such a huge endeavor of moving, we would need to first research things like what the health department regulations are regarding acidized foods in Pennsylvania."
Kenney said his office was in talks Wednesday to expand on earlier efforts to get that question and others answered.
"We saw the report on the partial shutdown so we mobilized with air management and someone will talk to (the Philadelphia Industrial Development Corporation) today to see exactly what they have."
Kenney said specifics like the distance the factory would need to be from residential properties and the types of properties available still need to be sorted out.
A representative from PIDC said Wednesday that the company is open to working with Kenney's office but that no specific plans are in the place at this time.
Kenney hopes Philadelphia's port and the city boosting one of the Top 10 largest Vietnamese populations in the country also helps draw Sriracha to town.
He is comfortable however if the company doesn't want to put everything into Philly but rather only part of its operation.
"The fact that they may need an operation on the East Coast would be something that's attractive to everybody," Kenney said.
"Even if they don't totally move out of California they would maybe like to think about expanding here. I don't know how much export they do but that may be an opportunity with the port."
But ideally, Philly would bag the big one -- the production line for the hot sauce.
Kenney's office estimates that if full Sriracha production moved to Philly it would create 500 year-round jobs and another 500 jobs for the three months of sauce production.
"It's a significant amount of jobs for people who don't have particularly high-tech skills," Kenney said. "One of the things I've been pushing the city to do -- and they're not doing it -- is trying to retain and attract jobs for people who don't have college educations.
"These are the type of jobs -- although they're not the glamorous high-tech jobs that everyone wants -- these are jobs that can hopefully feed families and pay bills."
Kenney, though admittedly not an expert on agriculture, said he hopes that if the company was to move here that chilies could be grown in Pennsylvania potentially leading to even more jobs.
"There's lots of possibilities."
Kenney himself only recently came to enjoy the stinky sauce and says "I put it on everything now."
He would add it to one more thing would the city actually lure the stinky sauce to town.
"A Sriracha Mummers parade -- what a combination that would be!"
---
Contact Dan Stamm at 610.668.5565, daniel.stamm@nbcuni.com or follow @DanStamm on Twitter.