A one-car crash in South Philadelphia left two people dead and two others injured early Friday morning.
Police said the car, a black 2005 Mazda 6 that was carrying four people, crashed into a PECO Energy building on Christopher Columbus Boulevard near Oregon Avenue shortly after 2:30 a.m.
Ben Jimmy, a 23-year-old from Upper Darby, and a woman in her 20s were killed in the car's back seat, authorities said.
Two others — the 23-year-old woman who was driving and another woman in her 20s who was the front passenger — were taken to area hospitals to be treated for injuries. They are expected to survive.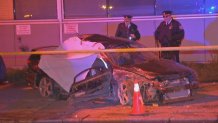 Tim McKibbon, an Uber driver, said the car sped by him and hit a concrete median in the boulevard's southbound lanes. Freight train tracks also sit in the median.
"I left the light and she cut me off," McKibbon said. "The car almost went head on until it hit the building. It kind of flipped over and landed where it was at."
A dashboard camera in McKibbon's car captured the crash. Sparks fly from the undercarriage of the black Mazda as it scrapes over the median before turning nearly 90 degrees and slamming into the PECO building. The car came to rest facing the other direction.
PECO said the car's impact damaged an office in the building, which also houses a substation. No one inside the building was hurt.
Police were investigating to determine if that was indeed the case and said that preliminary information they have determined so far indicated that the driver did not have a valid license.
The southbound lanes of Columbus Boulevard were reopened to traffic shortly after 6 a.m. Police are still investigating the deadly crash.