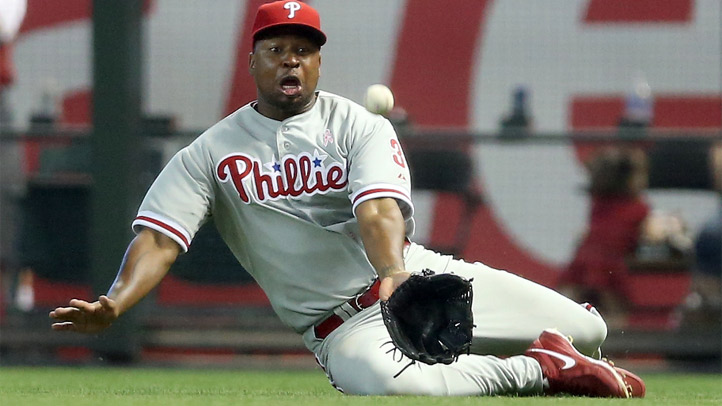 The Phillies ended a rather inauspicious era on Wednesday, when Delmon Young was released after being designated for assignment last week. Corey Seidman has the details over at CSN Philly.

Despite the fact that he was a cheap acquisition, despite the fact that he spent less than a full season on the Phillies, and despite the fact that he ultimately had very little to do with the Phillies being among the worst teams in the National League (he was bad, no doubt, but he was pretty far down on the list of problems for this club), he will go down as one of the worst moves of Ruben Amaro's tenure. And given the laundry list of bad moves made by Amaro, that's not an easy task.

To wit!

He was signed to be a right-fielder, even though he barely qualifies as a guy who can play defense. While the back of his baseball card might indeed say "outfielder," it's pretty evident that Young doesn't have much business patrolling the manicured grass beyond the infield. He doesn't run well, he gets bad breaks on balls, and he lacks the ability to play the position on a daily basis without costing the team a bushel of runs. To boot, Amaro saw fit to stick him in right field, despite the fact that he's had over twice as many reps (544 vs 227) in left field over the course of his career, and that he hasn't played the position since he was a 21-year-old in 2007. His only redeeming quality as an outfielder was his arm. It was an absolute joy to watch him break out when someone tried to run on him. Just watch this. Or this. Or this. He could have stood in right field without a glove while wearing flip flops, but I'd still enjoy watching him throw guys out at second base from the warning track.

He took away playing time from more deserving players. When he made the team, it meant that there was another, perhaps better player, who would get fewer at bats due to his presence on the team. The Phillies finally had the sense to promote Darin Ruf, who most assuredly lost some time because Delmon was on the team. Now, Ruf's ability in right field is another topic for another day, but the point is that whether it was Ruf, or Freddy Galvis, or some minor league journey man, the Phillies potentially missed a chance to see what they had in someone else.

Someone like Nate Schierholtz, perhaps. This has little to do with Delmon, but the fact that he essentially replaced a guy who was pretty much jettisoned for no reason is laughable. Even before Nate began to tear it up with the Chicago Cubs this season (.835 OPS with 16 homers in 100 games), he was a far better option than Young. Not only does he have a higher OPS for his career, but he is a very solid outfielder who won't cost the Phillies any games with his defense. On top of that, Schierholtz is all of 29-years-old, and at $2.25 million, isn't breaking the bank.
He wasn't a good player. For all his talents that made the Tampa Bay Rays want to use the first overall pick on him in the 2003 draft, Young hasn't come close to living up to expectations. Maybe that's the more about the nature of expectations and the perception of talent, but there wasn't much reason to expect him to be anything more than the player he has been his entire career: a below average hitter who isn't fit to play the outfield on a nightly basis.

To be fair to Amaro, signing a former first round draft pick to a one-year deal before his 28th birthday isn't the worst idea, because you never really know if you might catch lighting in a bottle. But that only really happens when you've never actually seen the lightning before. In the case of Delmon, who has been in baseball for some eight years now, there wasn't much else to know. His inability to get on base and to hit for a decent average have been well documented, and even if they weren't, he doesn't hit for enough power to warrant getting at-bats on a regular basis. If the Phillies were getting the 24-year-old Young who hit for 21 homers and an .826 OPS in 2010, then that would be an acceptable outcome. But the evidence was so far stacked in the opposite direction, that his signing was doomed to fail from day one.