Winter's last gasp? What will likely be the last snowstorm of this winter is set to hit our area early Friday, impacting the morning rush.
FROM 60S TO SNOW
Yup, it's March, and we often see wild swings in weather over just a couple of days. We had three straight days with highs up to 64, but wind chills dropped to 31 degrees Wednesday afternoon. So, it felt 33 degrees colder than just 24 hours before! Wonder why it felt extra cold? Our bodies got fooled into thinking it was spring. The next winter impact is going to be snow, and it's going to be more than flurries or a few snow showers.
Local
Breaking news and the stories that matter to your neighborhood.
A SOUTHERN TRACK
The storm itself hasn't really organized yet, so there's not much to see on radar. But this "Water Vapor" satellite loop shows the moisture buildup in the middle of the country in the blue colors.
And the U.S. model, the GFS, clearly shows the area of LOW pressure move from the Plains to the East Coast.
The closer the lines are together, the more intense the storm. So, you can clearly see how quickly it strengthens once it hits the coast. The storm track is too far south for most our area to be hit hard, but….
A MESSY FRIDAY A.M. RUSH
The combination of falling snow, a cold night, and a dark start to the Friday A.M. rush could make for a slushy mess in some areas. Most computer models don't show the snow getting heavy enough to cause major problems at that time. And, just as the snow starts getting heavier, the strong March sun will be "fighting" with it: snow sticking vs. melting. Snow needs to come down hard during the day in March to stick on roads. So I expect a slushy mess on side streets Friday morning, with the highways mainly wet. Low visibility from any heavier snow would make driving more difficult. Of course, it doesn't take much to mess up rush hour in the Philadelphia area.
HOW MUCH?
The Wednesday afternoon computer models varied a bit: from nearly zero measurable snow (mostly melting) to a few inches. The best chance of the higher amounts looks to be Central and Southern Delaware and extreme South Jersey. Both areas are closer to the storm track. Here is our snowfall forecast: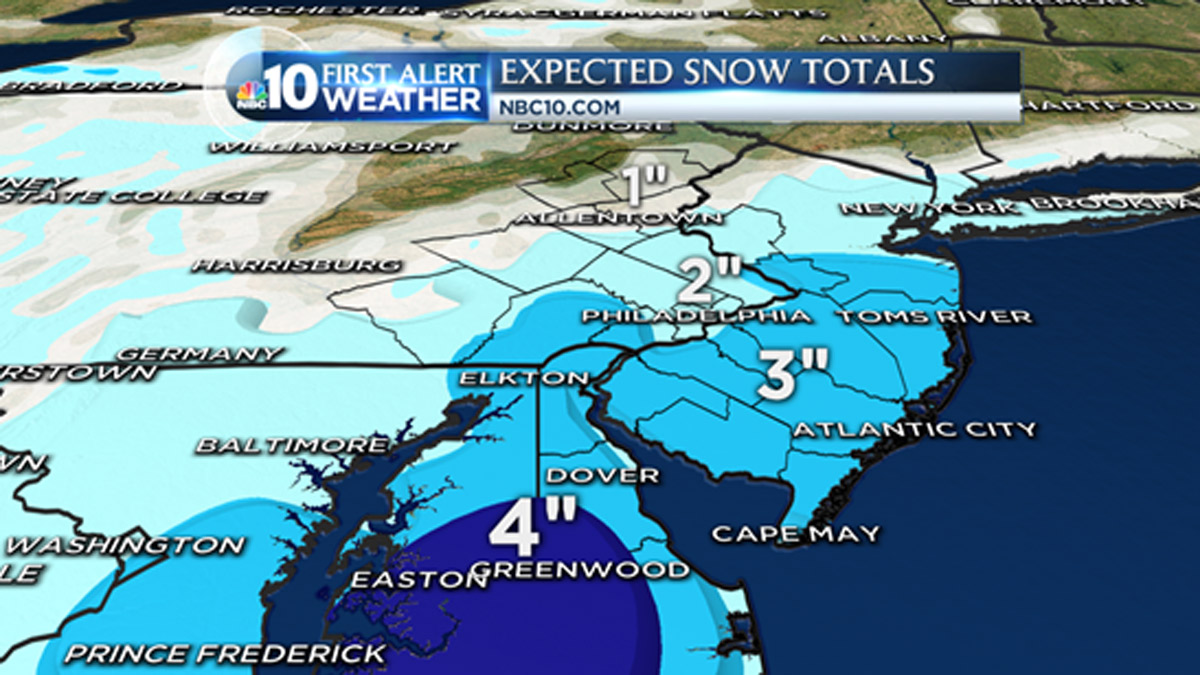 THE THINGS TO WATCH FOR ("WILD CARDS")
A couple of things could add or subtract from the snow totals:
WOULD MEAN MORE SNOW
Storm tracks farther north
Storm intensifies even more than expected
Heavier snow before sunrise Friday than now expected
Temperatures a bit lower than predicted
WOULD MEAN LESS SNOW
Farther south storm track (or weaker storm)
Snow light enough to melt even if it falls for hours
Temperatures stay above freezing in snow areas
Of course, stay tuned for updates on this storm, which could be the last one for a LONG time. Next week, temperatures should be going into the 70s.