What to Know
A mix of snow and rain is falling in areas across the region.
The brunt of the storm hit the Lehigh Valley, Berks County and parts of the PA suburbs where as much as 8 inches of snow fell.
The snow will move out by early Monday morning.
The storm has moved out. Here is the latest on the cleanup and school delays.
A mix of snow and rain is falling across the region and should continue into the overnight hours. What you see and how much you get by the time the system moves out Monday morning depends on where you live.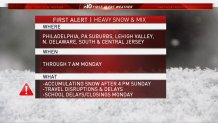 EXPECTED SNOW TOTALS
South Jersey: Coating to 2 inches
Philadelphia and Immediate Suburbs: Coating to 2 inches
Local
Breaking news and the stories that matter to your neighborhood.
Southern Pennsylvania Suburbs to Central NJ: 2 to 4 inches
Upper Pennsylvania Suburbs to Berks and Lehigh Valley: 4 to 8 inches
NEW JERSEY & DELAWARE: Delaware and the Jersey Shore are getting mostly rain, which started moving in around noon and continued throughout the night.
PHILADELPHIA & IMMEDIATE SUBURBS: Snow began falling in parts of the Pennsylvania suburbs, including Chester and Montgomery counties, Sunday afternoon. In Philadelphia, a mix of rain and snow also began falling in the afternoon. The mix became mostly rain and sleet by the evening in Philly.
PA SUBURBS & BERKS COUNTY. - LEHIGH VALLEY: Berks County and the Lehigh Valley got the brunt of the storm. The heaviest snow started to develop around 6 p.m. and will continue overnight into Monday morning.
The snow likely played a role in a crash that killed two teens and injured another in Milford Township, Bucks County, early Sunday evening.
Cities and towns throughout the region declared snow emergencies ahead of the storm; in a snow emergency parking on certain roads may be limited. Governor Phil Murphy also declared a state of emergency for New Jersey.
Some agencies announced travel restrictions or public transit cancellations.
The snow is heavy and wet in the northern and western suburbs, which means it will be difficult to shovel. Anyone in poor health should get a neighbor, friend, or snowplow to remove it.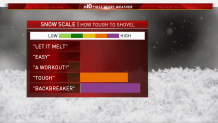 Hundreds of schools announced delays and closures for Monday. All archdiocesan high schools and parochial elementary schools will be closed in Philadelphia due to the snow. Even though the snow will be over by the morning commute, the impacts will be felt on many side and secondary roads that will need to be plowed in order to travel.
It's important that you keep checking back with the forecast on-air and online as any more changes to the storm track will alter our neighborhood snow totals.
Stay with NBC10.com and download our app for the latest weather updates.