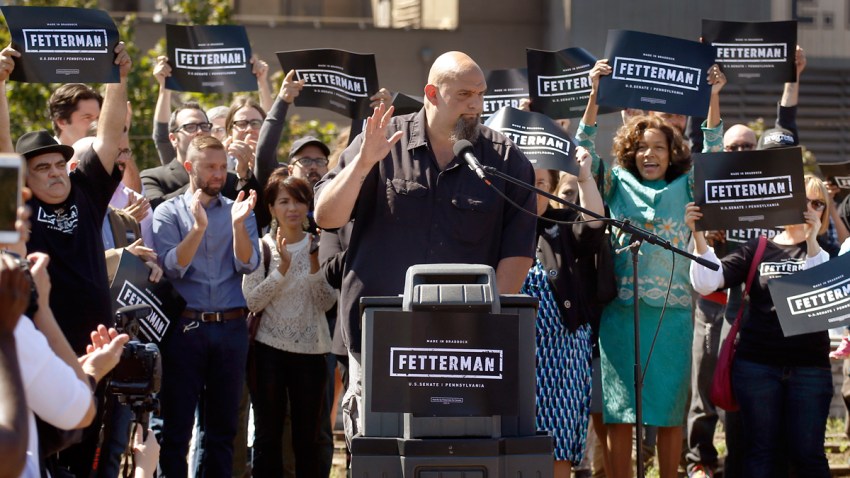 With a theme of fighting economic inequality and an outsize reputation for unconventional methods, the tattooed mayor of a small hardscrabble steel town near Pittsburgh said Monday that he will join Pennsylvania's competitive and expensive race for U.S. Senate.

John Fetterman announced his candidacy in tiny Braddock for the Democratic nomination to challenge Republican U.S. Sen. Pat Toomey, who is running for a second term with a unified GOP behind him, the backing of influential conservative groups and millions of dollars in his campaign account.

Fetterman first must face two experienced candidates vying for the Democratic nomination.

Wearing a black short-sleeve work shirt, gray cargo shorts and black high-top shoes, Fetterman addressed a crowd of supporters from the rooftop of his home, a restored car dealership that overlooks the 140-year-old Edgar Thomson steel mill.

Driving his candidacy, he said, is the same issue that drove him to be mayor: inequality in things like opportunity, health care and "the air that we breathe.''

He said he could not, however, promise that he alone "could fundamentally change Washington, D.C., any more than I could bring back the 14 furniture stores that Braddock once had,'' Fetterman told the crowd. But, he said, he would fight for "Braddock values'' in Washington.

Winning the April 26 primary election could cost millions of dollars and Fetterman, who comes from a well-to-do background in southern Pennsylvania, acknowledged that.

He made no promises that he could raise millions, and instead pledged to pursue small-dollar donors and mount a strong online presence.

This is his first campaign for higher office after arriving in Braddock in 2001 as an AmeriCorps volunteer and winning his first mayoral election in 2005.

The Harvard University-educated 46-year-old has gained national attention for his unconventional efforts to reinvigorate Braddock, from starting youth programs to attracting artists and edgy new businesses to vacant buildings and stores. He's appeared on Comedy Central's ``The Colbert Report'' and has been profiled in Rolling Stone, The Guardian, The New York Times and other news outlets.

Besides his choice of dress, the 6-foot-8, bald and tattooed mayor does not look like a typical politician.

"I don't even look like a typical person,'' Fetterman joked.

Fetterman is also unlike any other mayor.

He tattooed the town's zip code _ 15014 _ on one forearm and the date of every slaying in the borough since he became mayor on the other.

In 2010, he was arrested for refusing to leave the University of Pittsburgh Medical Center's corporate headquarters in protest over the closing of a hospital in Braddock.

Later, he performed same-sex marriage ceremonies in his home before a federal judge's ruling made it legal in Pennsylvania last year.

The candidacy party also was unlike any other: it featured a Reggae band, a blowup bouncy-house for supporters who brought children and the Pittsburgh Taco Truck giving away free tacos.

Fetterman will join a primary field that already includes former Congressman Joe Sestak, who narrowly lost to Toomey in 2010, and Katie McGinty.

Sestak, also a former Navy vice admiral, declared in March that he would seek a rematch with Toomey. McGinty, who has held high-level posts in state and federal government, joined the hunt in August. Both live across the state in Philadelphia's suburbs.
Copyright AP - Associated Press