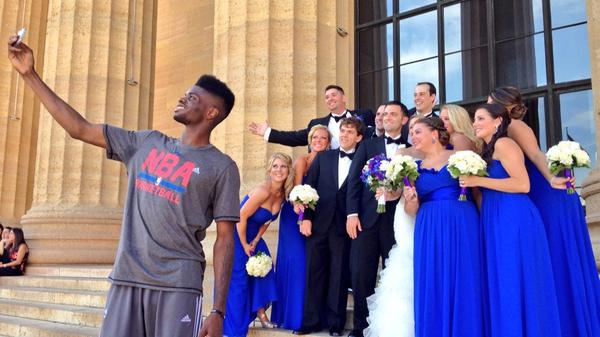 Sixers center Nerlens Noel got acquainted with the city of brotherly love in epic fashion on Friday, running up the Philadelphia Museum of Art and then crashing a wedding on top of the steps.
On his heels were a group of local school kids, and, by chance, participants of the Susan G. Komen Philadelphia 3-Day run.
Leading up to his "Rocky" moment, Noel spent the day with an NBA-TV crew filming a segment for NBA Rooks.
Noel, with the camera crew in tow, ran different stretches of the streets of Philadelphia that Rocky made famous training in the early mornings preparing for his big fight we all watched on the silver screen.
"I did a decent amount," Noel said of how far he ran. "I have to make sure I keep my body right. It is a special thing we are doing. It is great to have the kids here, sharing the Rocky thing. It has been a great day so far.
"When I was just on the street (in the Italian Market) there was so much love. Guys were throwing me apples and oranges. It was kind of like the movie. You can see how Rocky started here. I am blessed to be here."
Fittingly, the shoot ended at the Art Museum steps where a wedding was taking place. Noel then took a selfie with the wedding party posing behind him.
The Sixers went 19-63 a season ago, posting the second-fewest wins in the league. Noel, the No. 6 overall pick in 2013, was sidelined because of injury for all 82 games.
Though he has yet to take the court for the Sixers, Noel still draws fans everywhere.
Local
Breaking news and the stories that matter to your neighborhood.
"It means the world to me to have people behind us, cheering for us, and wanting us to do well and bring a winning mentality here," Noel said. "That is what we are in the process of. We are going to do whatever we have to do to get to the promised land for the city of Philadelphia."
The process is coming along, but is still far from being achieved.
One player who may help the franchise reach the promised land is playing overseas for the next couple years.
Noel, Michael Carter-Williams, rookie Joel Embiid, head coach Brett Brown and team president/general manager Sam Hinkie traveled to Spain for the World Championships earlier this month to support Dario Saric playing for Croatia.
Saric was selected No. 12 overall in June and later traded to the Sixers. His immediate future is in Turkey, but the Sixers hope his long-term success is in the City of Brotherly Love.
"We all went over there willingly," Noel said of the trip. "Once Coach and Sam mentioned it to us we were all on board. Dario is a great kid. We watched him for the first time, other than seeing highlights on YouTube.
"He can do a lot on the court and I am ecstatic about getting him over here. He is going to take his time, but in time, the time will be right."
In the meantime, Noel and his current teammates are getting ready for training camp. The Sixers will hold their camp at Richard Stockton College of New Jersey in Galloway Township beginning Sept. 30.