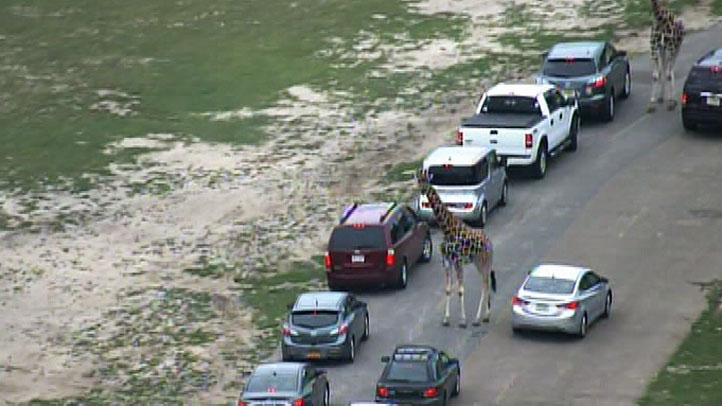 For nearly four decades people have had the chance to get the African Safari experience without even needing to leave the Garden State let alone their own car.
The Six Flags Great Adventure's Wild Safari -- the self-described "world's largest drive-through safari outside of Africa" has hosted 10-million drive-through visitors over 38 years but next month it will host it's last at the Jackson, N.J. park.
"Six Flags Wild Safari has been an institution for many families whose first glimpse of exotic animals was with their faces pressed up against a car window. That chapter of our history is now drawing to a close," said Safari Director and Chief Veterinarian Bill Rives.
Local
Breaking news and the stories that matter to your neighborhood.
The last cars will pass through on Sept. 30, Six Flags announced Monday.
The Six Flags folks say they will discuss plans about the future of the 350-acre animal sanctuary that is home to 1,200 animals including giraffes, lions, kangaroos, brown bears and rhinoceros on Aug. 30. They announced the closure ahead of the end of month press conference to give people more of an opportunity to pony up the extra $12.99 to check out the safari from their own car one last time.
The company says the animals will remain at Six Flags.
"Animal preservation and education has been a cornerstone of Six Flags Great Adventure since we opened our gates in 1974," said Park President John Fitzgerald. "While significant changes are on our horizon, our veterinary and animal husbandry staff will continue to provide excellent care for the more than 70 species of exotic and domestic animals that live here at Six Flags."
---
Fan, follow and download: Get the latest from NBC10.com anytime, anywhere. Follow us on Twitter, Facebook, our mobile site and NBC Philadelphia. Sign up for our breaking news newsletter. And, get breaking news delivered right to your mobile phone -- just text PHIBREAKING to 639710 to sign up. (Message and data rates may apply.)