UPDATE: Timeline and Expected Totals for Monday's snow, sleet and rain
---
Near-record cold gripped the region overnight into Sunday morning, with lows in Philadelphia reaching 5 degrees at one point.
Local
Breaking news and the stories that matter to your neighborhood.
The frigid temperatures did not make it down to the predicted 2 degrees in Philadelphia, which would have broken the city record set in 1979.
Wind chills across the region remained in the negatives into Sunday morning.
A Wind Chill Advisory for the entire area outside the Poconos was in effect until 9 a.m. Sunday with wind chills between -10 and -20 degrees. A Wind Chill Warning was also in effect until 1 p.m. Sunday for Carbon and Monroe counties with wind chills ranging from -20 to -30 degrees.
NBC10's First Alert weather team is tracking a slight warm-up and a winter storm headed our way Monday.
Frigid wind gusts reached as high as 50 mph Saturday and a snow squall in the morning led to a massive crash on I-78 involving more than 50 cars outside Harrisburg, Pennsylvania.
THEN COMES THE SNOW
There were snow showers early Saturday, thanks to the Great Lakes. Strong winds pushed arctic air over the warm, unfrozen waters, which led to Lake-effect snows. When winds are real strong, some of those snow showers can make it all the way to this area. Sometimes they line up in "streets", where one place can get heavy snow, while no snow falls only a few miles away. In Bethel Township, Lebanon County a snow squall caused a massive pileup Saturday morning, leaving three people dead and several people injured.
More widespread snow will be moving into the area Monday morning. It's hard to imagine that it would turn to rain a mere 36 hours after we have near zero degree temperatures. But it will. A storm moving up from the Deep South will bring a lot of moisture here, but also a lot of warm air. That means the storm will change to rain across the entire area.
The first map is for Monday at 7 p.m., and the 2nd one for Tuesday at 7 a.m. The differences in just 12 hours are incredible: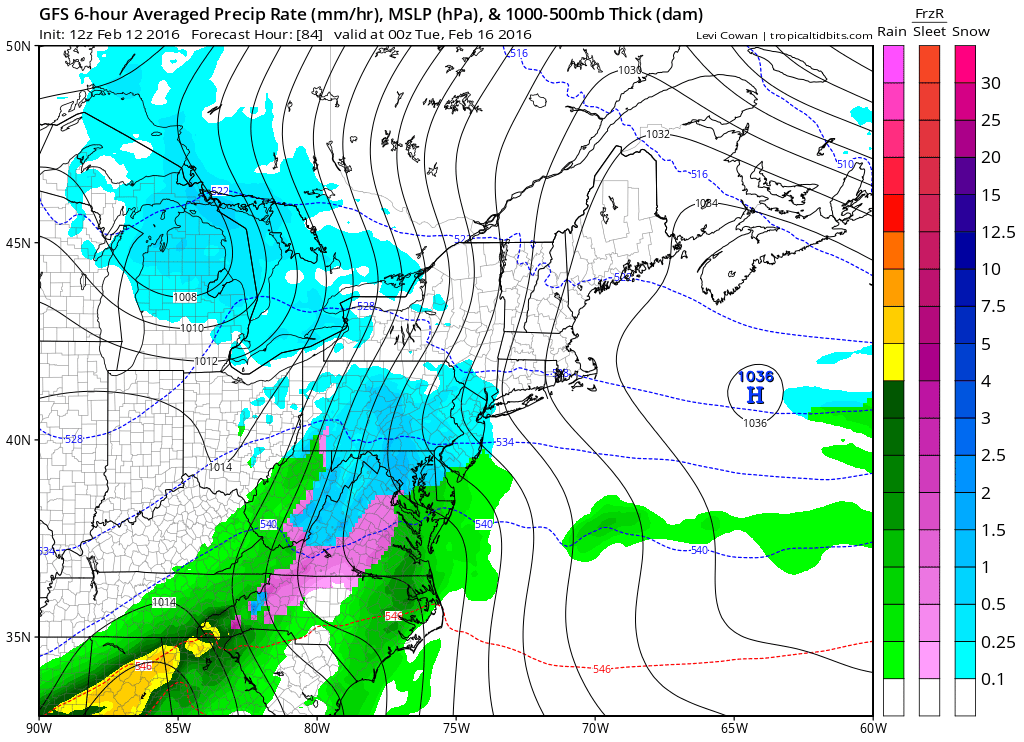 The blue colors are snow-the darker the blue the heavier the snow. So, the storm starts as snow across most of our area Monday, especially in the afternoon. It could be all rain right at the shore. The pink area is sleet, which is possible for a short period Monday night before the change to rain.
The second map shows that the snow has lifted WAAAY north (into New York state!) and west (west of Harrisburg). Most computer models agree with this: it will be raining everywhere in our area for the Tuesday AM rush. That yellow zone is heavy rain. It could be a really wet rush hour.
Right now snow amounts look limited before the change to rain with 1 to 2 inches expected across the area along the I-95 corridor, Delaware and South Jersey Monday. However, in the Lehigh Valley and the Poconos where areas will be even colder, the snow could continue longer with 2 to 4 inches expected.
Before the snow changes over to rain there will also be a brief period of sleet and freezing rain so ice and slick roads will be a concern, especially in the North and West suburbs.
By Monday night, everything will transition to rain which will continue at a heavy rate into Tuesday morning before the wet weather finally clears.
Monday's high will be 32 while Tuesday's high will be 49.
Stay with NBC10.com throughout the week for the latest weather updates.