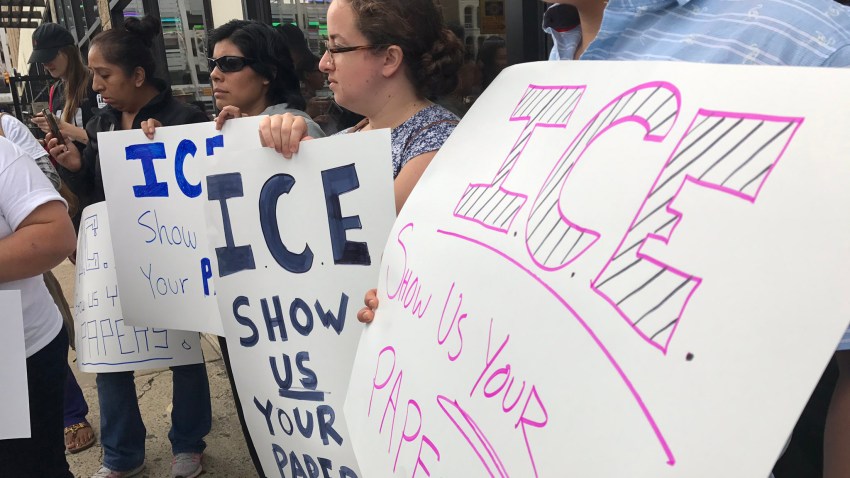 Dozens of protesters gathered in Center City to demand more information from federal immigration officials, who recently backed off plans for a masssive national raid.
Led by local community group Juntos, the demonstrators delivered a Freedom of Information Act (FOIA) request to Immigration and Customs Enforcement. The request asked for details regarding several planned raids, including Operation Mega, a sweeping immigration roundup that was canceled when hurricanes Irma and Harvey struck earlier this month.
"We will keep fighting," Philadelphia Councilwoman Maria Quinones-Sanchez said in Spanish. "This will be a long struggle and we will use all the assets available to us through the state and the constitution to ensure this government is more transparent."
Local
Breaking news and the stories that matter to your neighborhood.
Operation Mega would have targeted roughly 8,400 undocumented immigrants nationwide and would constitute "the largest operation of its kind in the history of ICE," sources told NBC. The raids were scheduled to begin this weekend.
"The Trump administration has let loose an unaccountable agency against our people," Erika Almiron, executive director of Juntos, said.
"The recent announcement of Operation Mega is the latest in a list of rogue tactics aimed at our community. Since the federal government isn't checking their corruption, we are filing FOIAs locally and across the country to begin to monitor it and bring it to light."
The local FOIA request is part of a coordinated effort throughout the U.S. that included a total of 24 requests filed at ICE field offices across the country.
"We're telling them they don't have the right to maintain a wall of secrecy," Philadelphia demonstrator Leah Reisman said. "They need to give us the information we need to protect our community, so we're telling ICE 'show us your papers.'"
ICE officials did not respond to questions about the FOIA requests, but a local official told NBC10 that "ICE continues to focus its enforcement resources on individuals who pose a threat to national security, public safety and border security."
ICE has removed more than 2,800 undocumented immigrants from Pennsylvania, Delaware and West Virginia since October. More than 1,800 were convicted criminals, an ICE official said.
"All of those in violation of the immigration laws may be subject to immigration arrest, detention and, if found removable by final order, removal from the United States," the official said.
This latest move by immigration advocates added to a string of actions aimed at fighting the Trump administration's crackdown on border security. While deportations were at an all-time high under former President Barack Obama, earning him the dubious honor of "Deporter in Chief," activists maitained that ICE arrests and detentions are increasing under President Donald Trump.
"We are not going to let ICE operate with impunity," Jacinta Gonzalez, field office director for national group Mi Gente, said. "We want to make sure ICE operations meet constitutional standards," including upholding the right to remain silent.
This is not the first time local governments have challenged President Donald Trump's immigration agenda.
Mayor Jim Kenney declared Philadelphia a sanctuary city earlier this year. After U.S. Attorney General Jeff Sessions repeatedly threatened to withhold grant funds for local law enforcement unless police began turning over immigration information to ICE, Kenney and City Solicitor Sozi Pedro Tulante sued.

One week later, when President Donald Trump announced he would end the Deferred Action for Childhood Arrivals program (DACA) in March, Pennsylvania joined Delaware and other states in a separate lawsuit against the federal government.
DACA, enacted under Obama, allows young undocumented immigrants, brought to the U.S. by their parents, to work and attend school.
News of DACA's demise triggered a flood of calls to city and community organizations from concerned recipients questioning what would become of their status. As a result, Philadelphia launched the Dreamers Initiative, a fund to help DACA recipients pay the $495 renewal fee before their legal protections expire.
"Those who are eligible for renewals are facing a really tight deadline of Oct. 5 and that's why Philadelphia has sprung into action," Miriam Enriquez, director of Philadelphia's Office of Immigrant Affairs, said.
Approximately 21,000 DACA recipients live in Pennsylvania and 5,000 of those live in Philadelphia, Councilwoman Helen Gym said.
"Pennsylvania Dreamers will not have to face the challenges ahead alone. At the highest levels of our city, state and nation, we are with you and we are fighting for you," she said.