Staring down the barrel of a gun, a man fought for his life and managed to turn the tables against an armed robber in North Philadelphia, even after being shot in the thigh.
"Five Nineteen will always be a time I will always remember," Jason Hines told NBC10.
It was 5:19 a.m. on Oct. 9 when Hines, 34, was walking on the 1700 block of Page Street, heading to a bus for work. Suddenly he was approached by an unidentified man who asked him to use his cellphone. When Hines told him he was going to the bus, the man lifted his shirt, pulled out a handgun, pointed it at him and said, "Give me all you got."
"He said, 'Stop f@#$*%$ playing with me and put the passcode in,'" Hines said. "I said, 'I don't know it.' He said, 'One.' Click. Click. 'Two.' And it's at my face now. And now I'm straight down the barrel of the gun."
The robber then struck Hines twice in the head with his gun.
"After he smacked me with the gun twice, I was just holding my head like, 'I don't know my code. I don't know my code,'" Hines said.
But Hines says the robber continued to threaten him, telling him he would kill him if he didn't put in his password for his cellphone.
Local
Breaking news and the stories that matter to your neighborhood.
Hines said the robber then tried forcing him into a nearby alley. Believing he would never come out of it alive if he walked into the alleyway, Hines decided to fight rather than accept his fate. Hines then punched the robber and wrestled both his gun and a screwdriver he was holding away. As the two struggled over the weapon, the gun went off and a bullet went through Hines' thigh. Yet despite his injury, Hines' survival instinct continued to kick in.
"I fell into his face," Hines said. "So I started biting him. And I got a hold of his mouth and I just shook it like I was a pit bull. And he let the gun go."
In a wild turn of events, the robber began to beg Hines for his life. Even after being shot and nearly killed by him, Hines decided to show mercy.
"He's like, 'Please don't kill me. Please don't kill me,'" Hines said. "I'm like, 'I'm not going to kill you. I'm not that type. But you just tried to kill me.'"
Hines said he then let the robber go. The robber then fled the scene. With a gunshot wound to his thigh and a gun and screwdriver in his hands, Hines hobbled down the street, looking for help. He then ran into a Temple University student who contacted police. Hines was taken to the hospital and placed in stable condition. He was later released. Today he continues to recover, thankful that he's still alive.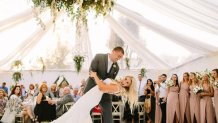 The suspect is described as a dark skinned black male in his mid-20s standing approximately 5-foot-6 and weighing approximately 150 pounds with short hair. He was last seen wearing a gray hooded sweatshirt, white t-shirt, dark-colored jeans and sneakers.
If you have any information on his whereabouts, please call 911 or 215-686-8477. You can also text a tip to PPD TIP or 773847.