While heroin continues to be the primary killer of drug addicted people in Pennsylvania, a new report shows cocaine and the powerful synthetic opiate Fentanyl are increasingly involved in claiming lives.
Last year, 3,383 people died from a drug overdose across the state, according to a Drug Enforcement Administration analysis released Tuesday morning. The findings represent a 23 percent jump in drug deaths over 2014. The new high illustrates the nation's drug epidemic is showing no signs of slowing down despite scrambled efforts by law enforcement and policy makers to address the problem.
Heroin was involved in more than half of the overdose deaths (55 percent) across the state and once again claimed more lives than the previous year, according to the report. The single digit upward trend (5 percent), however, was paltry compared to sharp increases in cocaine and Fentanyl-involved deaths.
Officials found a 41 percent jump in cocaine-involved deaths and a massive 93 percent increase in Fentanyl-involved overdose deaths year-over-year.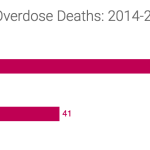 Fentanyl overdoses were known to be on the rise recently, but the cocaine findings came as a surprise to the DEA. Lehigh and Lancaster counties saw triple digit increases in cocaine-involved deaths: 149 percent and 113 percent respectively. Double-digit jumps were recorded in Bucks County with 63 percent and Delaware County at 53 percent, the report shows.
Nearly two-thirds of those killed by a drug overdose had at least two illegal drugs present in their body when they died, according to the analysis.
Local
Breaking news and the stories that matter to your neighborhood.
The DEA continues to promote drug use prevention as the primary method to cut down on deaths. The agency launched a pilot program in western Pennsylvania last November to combat the growing epidemic. Called the 360 Strategy, agents focus on education, community involvement and increased dialogue with the medical community to prevent new drug use. NBC10's Digital Team profiled the program as part of Generation Addicted, a multiplatform investigation into the heroin and opioid crisis.
Agents are also calling for coroners to increase the number of drugs they test for when investigating a death. Each coroner chooses how many or few drugs to test for during an autopsy and records are not standardized, leading to tedious and slow information collection. The DEA says better information will help agents react to new drug trends quickly to possibly save lives.