Commuters who use trains in the Philadelphia region will be impacted for months, SEPTA officials said Sunday, after an inspection of a leaning train car led to the discovery of a "couple hundred" cracks in other cars.
SEPTA on Saturday took all 120 of its Silverliner V Regional Rail cars -- which make up a third of its rail fleet -- out of service for inspection and repairs.
SEPTA General Manager Jeffrey Knueppel on Sunday provided an update on the defect in the cars, saying that SEPTA personnel completed inspections on nearly all of the Silverliner V cars and found cracks that pose safety hazards in most of them.
Inspectors "found a couple hundred cracks so far," Knueppel said. Only five of the cars inspected so far had no cracks, he added.
Knueppel said that service will be significantly impacted by the removal of the 120 Silverliner V cars and asked Regional Rail commuters to be patient as SEPTA works on altering service to accommodate them. He said SEPTA will release revised service schedules on its website, SEPTA.org, sometime on Monday.
Knueppel said an engineer noticed late Friday night that a Silverliner V car was leaning slightly and investigated, eventually leading to the discovery of a crack in a 9-foot steel equalizer beam. The equalizer beams transfer the weight of the train car bodies onto the axles, he said.
"It had sheared through. The crack had gone from top to bottom, but it kind of had just wedged itself tight, which was fortunate," Knueppel said of the first crack workers discovered.
Local
Breaking news and the stories that matter to your neighborhood.
He stressed that most of the cracks are small and progressive, so they did not pose an immediate danger. Had the cracks worsened enough, however, he said they would have posed serious safety risks.
On each car, there are four equalizer beams, so there are eight locations per cars where the cracks can potentially develop, Knueppel said.
"The concern would be that at high speed, you could have a derailment. This particular failure on this car, as the crack formed and went through the equalizer beam, it got stuck and wedged itself together, so it just dropped slightly, allowing the car to tilt a little bit," he explained, detailing the first crack located. "But you can't be sure how cracks will run."
Knueppel said that SEPTA's Silverliner IV cars, which have been around since the 1970s, and its coach cars have not displayed any of the same issues in their years of use, but that engineers were inspecting a sample of them to be cautious. Those cars will serve as SEPTA's only rail cars until the Silverliner Vs are back in service, which Knueppel said could take months.
Knueppel said that on some cars, the 9-foot equalizer beams will need to be replaced. He said the cause could be a design flaw or an issue that occurred during the manufacturing process, such as a problem with the welding process.
The Silverliner V cars in question are the newest cars in SEPTA's train fleet. Knueppel said the transit authority received the cars between 2010 and 2013, and that the bodies of the cars were manufactured by Hyundai Rotem. Knueppel said Columbus Steel Castings in Ohio manufactured the assembly, but that the parts in question may have been manufactured by a different company altogether. It was unclear Sunday what company made the specific part. The train cars are still under warranty, Knueppel said.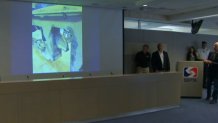 He said all appropriate federal authorities, as well as PennDOT, have been notified of the issue.
"Once we find a crack, per the Federal Railway Administration, we're in trouble, it has to go out of service," Knueppel said. "But we agree with that recommendation."
The repairs will be hefty and could take months, he said. He said some of the beams will likely need to be replaced altogether, but SEPTA is looking into whether others can be repaired.
He said the tilt on the car in question, Car 812, that led to the discovery of the defect, was only slight.
"Why it was visible was because it was a married pair, so it was really more that there was a difference between the two cars," he explained.
He said the cracked parts were so strongly wedged together that mechanics had to cut them apart.
For riders, Tuesday morning's commute will bring headaches. Knueppel said the first few weeks will likely be the toughest as SEPTA works out a plan to accommodate riders. He encouraged riders who can take alternate modes of transit, like buses, the Market-Frankford El, the Norristown High Speed Line or the Broad Street Line subway, to consider those as options.
"It likely will prove difficult to get on due to overcrowding at some stops," Knueppel said.
He said for riders who already purchased monthly TrailPasses, the TrailPasses will be accepted on all other services, and that SEPTA is working out a credit plan for future purchases.
"This is an all-hands-on-deck situation for SEPTA, and we understand the profound ways in which this will affect our loyal riders," he said.
You can learn more about the Silverliner V Regional Rail cars here.