What to Know
A SEPTA regional rail conductor was shot while working on the Chestnut Hill West line on May 10.
The 57-year-old conductor took a bullet to the hip. Witnesses said they heard one gunshot after the train stopped at the Carpenter Station.
Police have charged two men, Jemil Wylie, the suspected shooter, and Donel Mills.
Two men face charges in the shooting of a SEPTA conductor during a botched robbery at a Regional Rail station last month.
SEPTA Police chief Thomas Nestel announced the arrests in the May 10 shooting on the platform of the Carpenter Station in the city's West Mount Airy neighborhood at a Thursday morning news conference.
Nestel called the suspects "SEPTA's most wanted fugitives."
The accused gunman, Jemil Wylie, was arrested in an Oxford Circle home on Tuesday, police said. He had a gun on him at the time. He is charged with aggravated assault, robbery, conspiracy and weapons charges.
The accomplice, identified as Donel Mills, was already in custody on a domestic assault arrest in Delaware County when he was identified in this case, police said. Nestel called him an "accomplice."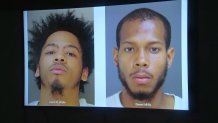 The shooting left a 57-year-old conductor shot once in the hip, Philadelphia police said. He continues to recover from his injuries and hasn't returned to work.
In video released in the days after the shooting you see two men waiting on the platform for the Chestnut Hill West train to arrive, police said.
One suspect demanded cash from the victim as he exited the train. Police said the conductor pushed the other suspect and darted for the train. The first suspect, armed with a gun, then fired a single shot.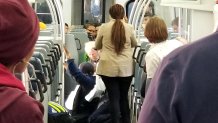 A photo taken from inside the train and shared through the NBC10 app appeared to show the conductor on the floor and riders looking on as at least two men helped.
Local
Breaking news and the stories that matter to your neighborhood.
A SEPTA official said it's been 20 years since a conductor was shot. The injured conductor has worked for SEPTA for 19 years.
SEPTA said that detective work and witness cooperation helped them track down the suspects.
SEPTA and the Citizens Crime Commission put up a $6,000 reward for information leading to the arrest and conviction of the suspects. It is unclear if someone will claim the reward.
Both suspects remain jailed, unable to post bail. Online court records don't list an attorney who could comment on Wylie's behalf. A message for Mills' attorney in his previous Delaware County case has yet to be returned.
Correction: This story initially misnamed the SEPTA Police chief, his name is Thomas Nestel.