What to Know
Anthony Woods admitted to striking and killing Emmanuel "Manny" Weintraub in front of JoJo's Ice Cream parlor in August 2018.
A judge sentenced Woods to 10 to 30 years in prison for third-degree murder, per a plea agreement.
Police say Woods told investigators he was driving home after buying and using heroin when he struck "whoever" on the street.
A driver who investigators say told them he struck "whoever" while high on heroin will serve 10 to 30 years in prison after admitting to killing a Bucks County man out getting ice cream.
Anthony Woods pleaded guilty Tuesday to third-degree murder, homicide by vehicle, accidents involving death or personal injury and other related offenses, according to court records.
Judge Brian McGuffin sentenced the Falls, Pennsylvania, man to 10 to 30 years in prison, per a plea agreement with prosecutors.
Woods, now 42, struck Emmanuel "Manny" Weintraub as the 70-yer-old man crossed the street after getting ice cream on Aug. 21.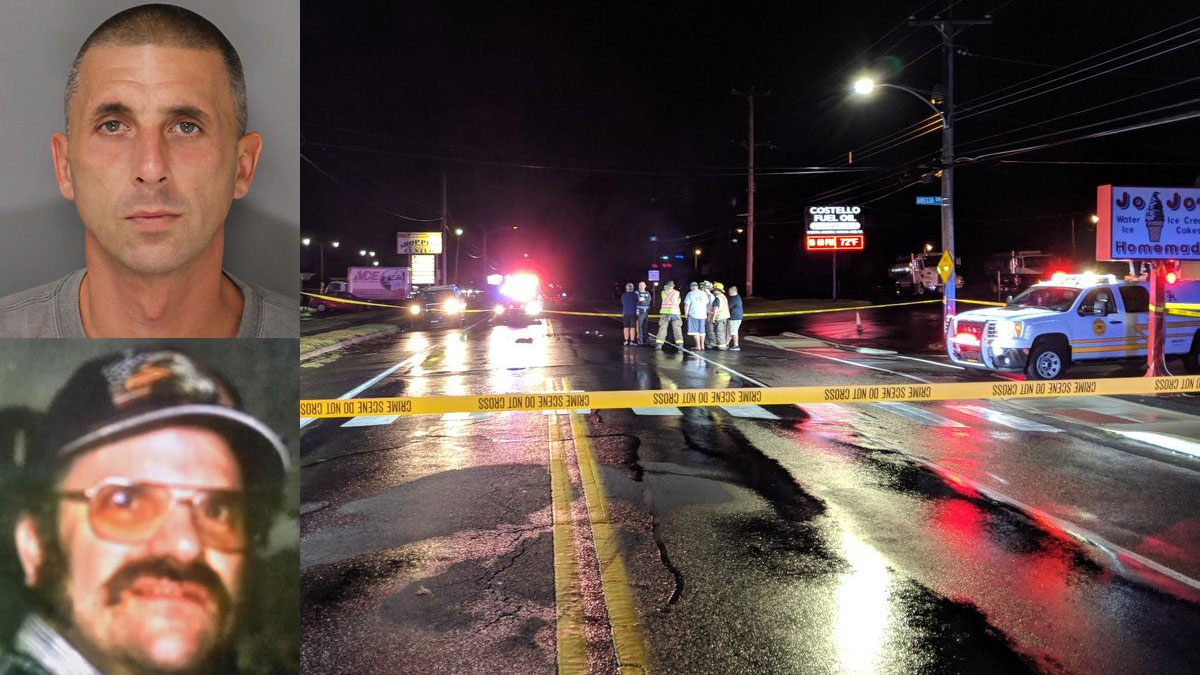 Weintraub was using a cane to cross New Falls Road near Amelia Drive in the crosswalk after leaving JoJo's Ice Cream & Water Ice as heavy rain fell that summer night. As he was walking, Woods' 2007 gray Nissan Altima went around a slow moving car and slammed into Weintraub, Falls Township police said.
The driver kept going, leaving Weintraub for dead, according to investigators. The victim's cane and shoes were left behind.
Investigators obtained surveillance images of the hit-and-run vehicle which led to Woods' arrest about a week later.
While being interviewed by police, Woods told investigators he was driving home after buying and using heroin in North Philadelphia and that his car struck "whoever" after he crossed the double yellow-line to pass a slow-moving car, according to a criminal complaint.
Woods told police he was unsure if the person was dead but fled the scene because he believed he had drugs in his system, investigators said.
Local
Breaking news and the stories that matter to your neighborhood.
He allegedly admitted to getting his windshield fixed at an auto glass shop in Trenton, New Jersey. Woods told the shop's owner not to speak with investigators and initially told police he broke the windshield while "copping drugs" in Philadelphia, the criminal complaint said.
"It was important to the Commonwealth and to Manny's family that Woods be convicted of third-degree murder," Deputy District Attorney Robert James said. "Woods' actions before, during and after the incident demanded a conviction for the most serious offense he could be charged with under the law, and he deserves to serve every day of that 30 years behind bars for the damage he caused to his victim, the victim's family and the community."
On Tuesday, Woods also pleaded guilty to DUI stemming from a traffic stop earlier in August, the district attorney's office said.
Weintraub, a retired postal worker, was a regular customer at JoJo's, the ice cream shop said on Facebook. Weintraub had just gotten ice cream after a fundraising event ended and was leaving moments before he was struck.
Weintraub died only days before his wedding anniversary. His neighbor, Marie DiSalvo, told NBC10 Weintraub's wife later found the gift and card he left behind.
"He wrote a special, 'I love you. You're the best thing in my life,'" DiSalvo said. "Something very comforting for her."