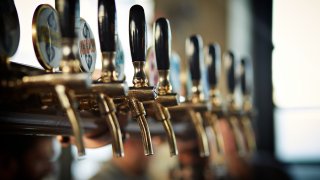 A self-serve bar and tasting room is set to open in Philadelphia's Rittenhouse Square neighborhood early next year, reports the Philadelphia Business Journal.
Tapster, a Chicago-born concept which has additional outposts in Seattle and another slated to open in Cleveland later this year, will launch its fifth location at 110-16 S. 16th St. in the first quarter of 2023. The company has signed a roughly 3,600-square-foot lease, taking over the spot formerly occupied by Philadelphia Runner.
Unlike traditional bars, the concept gives patrons direct access to a long row of drink taps where they can sample beers or pull an entire pint. Staffed with bartenders to answer questions and help guide patrons, Tapster also serves large-batch cocktails, kombucha, wine, cold brew coffee and craft cocktails.
Upon arriving at Tapster, patrons are given a card that is linked to their form of payment, which they then use on a tap. Guests are charged by the ounce, allowing for sampling or entire pints. Each ounce is priced differently depending on the beverage.
Check out PBJ.com's full article for why having non-alcoholic options available is important to the company's co-founder, and what Tapster has in store for coworking locals and coffee lovers.
Stay in the know on all things business with the Philadelphia Business Journal.
Copyright bizjournal