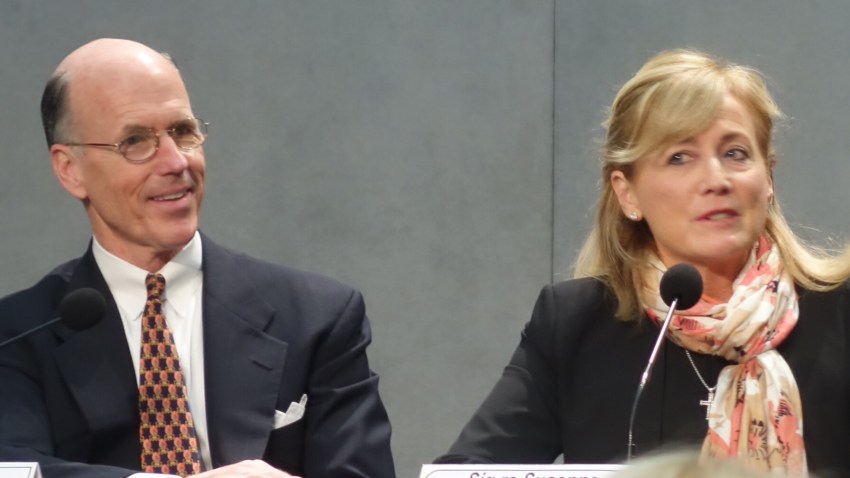 Two people stood out today among the 24 delegates from Philadelphia who've traveled to the Vatican to help plan for an expected papal visit next year when the city plays host to the World Meeting of Families. Eustace and Suzy Mita, who were compelled during a Vatican news conference to reveal the secret to their 38 years of married bliss.

"We can't sit up here and say I married a great Irish girl and that there isn't an argument or two, but I think we fight as much for each other as we have with each other. And one of the things that we realized early in our marriage is that we have a stake in each other," Eustace Mita answered after first deferring to his wife.

The Mitas were the only local delegates up on the dais during a press conference where Philadelphia Archbishop Charles Chaput and Archbishop Vincenzo Paglia, President of the Vatican's World Meeting of Families, delivered statements about their excitement and progress in planning the Philly event. Chaput invited the Mitas to join him during the press conference because he wanted a couple who represented a strong marriage.

After the press conference I asked Mr. Mita to elaborate a little more on married life.

Q: To be married nearly 40 years, happily, is something to be proud of. What else contributes to such a long and healthy relationship?

A: I think what's really helped us a lot too, honestly is our prayer life. When you pray together it just kind of melts anything. You know forgiveness is a big thing too.
We forgive each other. I admit I made a mistake. The six most important words, and please and thank you.

I think what has helped us too is our five children because our children hold us to a high standard of respect and love for each other. As I say, 'Children more attention pay to what you do than what you say.' And now we have grandchildren. Seven years ago we didn't have any and now we have ten. The greatest joy for Suzy and I is when our children are together in the same house, same room, just to sit back and watch them is a great thing.

Q: When we were kids, a lot of us used to kneel down by our beds and pray at night. You talk about the strength of praying together with your wife. How and when?

A: Well, as our children grew up, we always had nighttime prayer and one of the things that we encourage them to do is don't be afraid to pray before meals, even if you're in a restaurant you can do it quietly. But it's to live with gratitude to God. We've had our problems just like every other family, we've had health problems in our family we all have experienced throughout, it doesn't matter whether it's Suzy's side or my side, addiction, affliction, anxiety, and when a family bands together to support each other during those hard times, I think that's what really, really by the grace of God helps you get through the tough times is that you know you have a stake in each other.

Q: Gay marriage. Non-traditional relationships. Do you think the church is going to open up more about embracing people who don't have traditional lifestyles?

A: Like all our families, we have divorce, one of my best friends in the world is gay, and we don't judge them. You know, that's not our position. It's about love, loving each other and reaching out and trying to understand. A lot of people say, 'Well the Church rejects that.' Now the Church that we know embraces all people. We don't define ourselves by gay or straight or same sex attraction but the church embraces with love, everybody.

That doesn't mean, as Archbishop Chaput said, that the church is going to change its stances on those issues, but certainly we're all-inclusive. We'd love to have them in the church, we welcome them in the church and it's not them or us, it's we. We're all one church.

Q: You grew up a Catholic school boy. What kept you not just tethered, but deeply involved in the church?

A: I think what kept me deeply involved is I've always had a big faith and my grandfather had some great sayings. He said, 'Whenever you see an opportunity, take it.' He said, 'Be kind to old people 'cause you're going to be old too some day,' and lastly, he said, 'Stay close to God 'cause you're gonna need him."