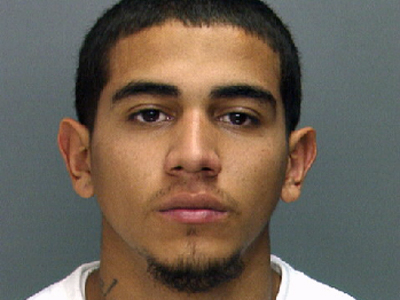 A police officer was shot in North Philadelphia early Friday morning while chasing a man he and his partner stopped for speeding.
Kevin Gorman, a three-year veteran of the force, and his partner stopped a black Mercury Marquis for speeding around 2:30 a.m. on the 3300 block of N. Howard St., police said.
One of the four passengers got out of the car and fled on foot, Gorman immediately began chasing him, according to investigators.
Local
Breaking news and the stories that matter to your neighborhood.
The suspect, 20-year-old Nasuil Martinez, a heavily tattooed man dressed in all black, hid behind a fence, police said. As Gorman climbed the fence, Martinez allegedly shot him in the shoulder.
The officer was rushed to Temple Hospital where he was treated. He was released around 5 a.m. with his arm in a sling.
Martinez resides in the 2800 block of Lee Street in Kensington. He is considered armed and dangerous, cops said.
If you have any information on the whereabouts of Martinez, you are urged to call Philadelphia Police homicide unit at 215-686-3334/3335 or call 911.
---
Fan, follow and download: Get the latest from NBCPhiladelphia.com anytime, anywhere. Follow us on Twitter, Facebook and NBC Philadelphia. Sign up for our breaking news newsletter. And, get breaking news delivered right to your mobile phone -- just text PHIBREAKING to 639710 to sign up. (Message and data rates may apply.)