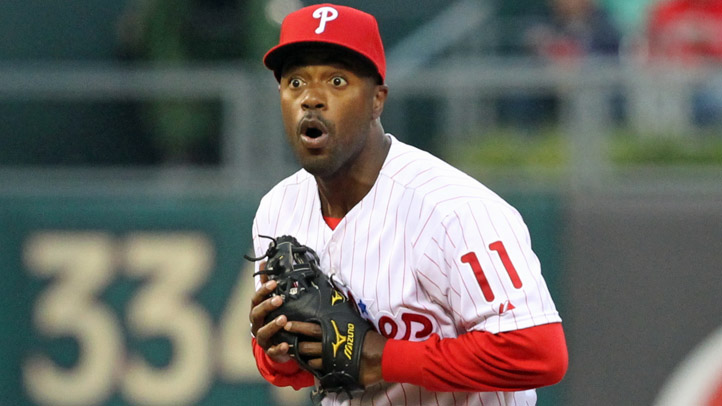 It's been less than a week since Ryne Sandberg has taken the helm from deposed manager Charlie Manuel, and so far, he seems intent on making changes to a team that has spent much of this and last season under the .500 mark.

First, he seems to have installed Carlos Ruiz as the number two hitter, thanks in part to the catcher's ability to get on base better than most over the past few seasons. While he has struggled to repeat that success this year, it's not the worst idea from the new skipper. Second, Sandberg addressed Jimmy Rollins' struggles on Tuesday, and spoke publicly about the adjustments needed for the shortstop to become more of an impact player. Courtesy of Ryan Lawrence from The Daily News.
I would like him not to focus on hitting home runs. Anytime that I hit a home run, it was an accident. It was a perfect swing that I caught out in front, square up and was just underneath just a little bit. What I think for Jimmy at the top of the lineup with his speed and his baserunning and as good as he is as a baserunner, he's got to get on base. I don't think him focusing on hitting 15 to 20 home runs in the right approach for him. If he wants to score 100 runs per year, I think that's the proper approach — not hitting solo home runs. That's any guy at the top of the order- that's making the pitcher come to him and if you get your walks, battle in your at-bats and try to get on base. He has enough pop to hit the ball in the gaps and get his doubles, so I think for me and keeping a line drive stroke and improving the on-base percentage. That's what the team needs.


This, right here, is where Ryne Sandberg can really, truly make a difference with this ball club. The talent, at least for right now, isn't going to get any better. Some pieces, like Ben Revere, will get healthier, but the Phillies don't have a glut of can't-miss prospects ready to take the field in 2014. The 25-man roster in 2013 is going to look awfully similar to the 25-man roster in 2014, barring some incredible turnover in the front office sometime between now and then.

And Sandberg knows this. It doesn't take a fortune teller to realize that the future might be bleak, so he ought to start making the best with what he has. While some players might not need much guidance, others are going to need an awful lot. Still, then, there will be players occupying some middle ground of a varying level of utility. These are the players that can go either way during a season, and they are the ones that can help to revitalize the club. One of them is Ryan Howard, who would be wise to follow in the footsteps of Adam Dunn by adjusting his approach to counter the defensive alignment that has made him largely impotent as an offensive threat.

With Rollins, Sandberg hit the nail on the head. The best way that he can provide value to the team, at his age, is by getting on base. He's not a power threat any more, and if he wants to continue to be a mainstay at the top of the order, then he needs to have a much better plate approach, even if that means trading long balls for long at-bats.

What I am most impressed with is that Sandberg is putting an emphasis on the team's on-base percentage. Say what you want about power, or about batting average, but having a roster full of players who can work the count and draw a walk and consistently get on base is what is going to win baseball games. Ruben Amaro has been pretty clear on what he thinks about on-base percentage, and it is awfully refreshing to have a manager who seems to think a little bit differently on the subject.