What to Know
Ryan Pownall is accused of shooting and killing David Jones during a June 2017 traffic stop.
Pownall was fired earlier this year. Jones' death is the second shooting of a civilian in the back in which Pownall has been involved.
Pownall now faces third-degree murder charges when he goes to trial.
Charges were reduced Thursday morning for a former Philadelphia police officer accused of shooting David Jones in the back as he attempted to run away during a 2017 skirmish.
Ryan Pownall is now facing third-degree murder charges rather than the first-degree charges initially sought by the Philadelphia District Attorney's Office.
Pownall will head straight to trial after Common Pleas Judge Robert B. Coleman ruled in favor of a bypass motion filed by the district attorney's office to bypass a preliminary hearing.
Bail was set at 10 percent of $500,000 on condition of house arrest. Pownall posted shortly after the hearing ended, according to court records.
His family and friends crammed into the Philadelphia courtroom for Thursday's short hearing. Jones' family, many wearing T-shirts bearing his image, sat separate from the dozens of police gathered to support Pownall.
"We know God's delay is not a denial. We stand fast. We know justice will be done," Jones' godmother, Donna Clement-Jackson, said. "No matter what the charges are, we know he is guilty."
Lawyers for Pownall previously argued that the officer, who was originally charged with criminal homicide, was entitled to lesser charges. The DA's office, however, argued that the evidence presented in a grand jury investigation was sufficient to move ahead with first-degree charges.
In Pennsylvania, a criminal homicide charge includes both first- and third-degree murder. But first-degree murder charge requires prosecutors to prove that a killing was premeditated.
Judge Coleman appeared to call it a draw Thursday morning. In an unusal twist, both sides said they were pleased with his ruling.
"We are extremely satisfied with this decision," Pownall's attorney, Fortunato Perri Jr., said outside the courthouse.
Meanwhile, the Philadelphia District Attorney's Office called Thursday's hearing a "major victory."
"Nearly 20 years ago, judges twice tossed [out] murder charges against the last on-duty officer who was charged with homicide," the office said in a statement. "Judge Coleman's ruling today means that history will not repeat itself and a jury will hear all the evidence in the case."
The 36-year-old Pownall has been jailed without bail in the Philadelphia suburbs since his arrest in early September.
Pownall is accused of shooting Jones last June along Whitaker Avenue. He is the first city officer in years to face a homicide charge for an on-duty shooting.
After the arrest, Perri Jr. previously argued that his client's actions were entirely appropriate.
"His training dictated that once you are justified to use your weapon ... you are justified in continuing that action," he said.
Pownall was fired from the police department following an internal review.
At the time of the shooting, Pownall had been transporting three people to the department's Special Victim's Unit for an interview. Philadelphia District Attorney Larry Krasner said the officer pulled across traffic and into a parking lot after seeing Jones riding a dirt bike.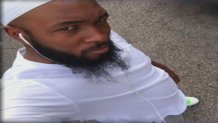 Pownall, who served 12 years on the force, patted down Jones and felt a gun in his waistband, police said.
A witness in the back of Pownall's police vehicle watched the officer pull his service weapon and warn Jones not to touch the gun, police said. The two men then briefly scuffled as Jones turned his back on Pownall and fled on foot, investigators said.
Pownall attempted to fire his service firearm, but it jammed, Krasner said. Jones, who was also armed, threw away his gun and ran in the opposite direction of the weapon, according to authorities.
Surveillance video obtained by NBC10 appears to show Jones running away when he was killed.
"Video recovered from the scene shows that Jones was unarmed and he never turned toward Pownall or gestured in a threatening manner during his (running away)," Krasner said. "As Jones ran, unarmed, Pownall fired at least three shots toward Jones and traffic, hitting Jones twice in the back."
Local
Breaking news and the stories that matter to your neighborhood.
The entire deadly interaction lasted less than 30 seconds.
"Jones' death was not necessary to secure the apprehension of Jones," Krasner said.
It was the second time Pownall was involved in an on-duty shooting where a suspect was struck in the back.
Carnell Williams-Carney was paralyzed in 2010 after Pownall and a second officer fired shots at him as he fled, hitting him once in the back. A federal jury ruled in a civil lawsuit that Pownall and the other officer were justified in opening fire.
Last September, Philadelphia Police Commissioner Richard Ross said the officer used poor judgment in the shooting of Jones.
"Jones was running away from Pownall with nothing in his hands," Ross said.
Pownall broke department policy by making a traffic stop with witnesses in his vehicle, Ross said. Pownall also failed to notify police radio of the traffic stop or call for backup.
Pownall's attorney said Jones didn't have a license for his gun.
The City of Philadelphia has agreed to pay $1 million to Jones' family. The settlement doesn't include any admissions of liability by the City, the mayor's office said.
Prior to Thursday's hearing, Pownall was also charged with possession of an instrument of crime and reckless endangerment. Formal arraignment is set for Oct. 25.