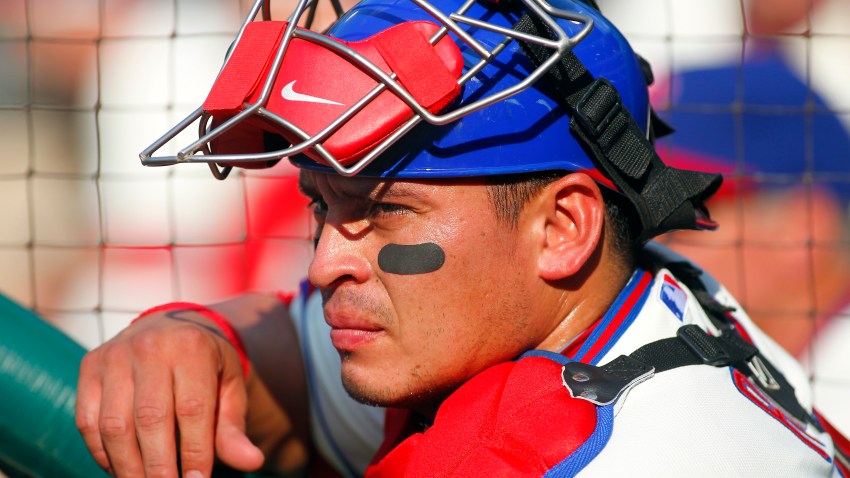 Until Chase Utley signed an extension with the Phillies in the middle of the season, Carlos Ruiz was perhaps the most interesting free-agent-to-be on the roster. Sure, you could argue that Roy Halladay should be at the top of that list, but his health concerns and inability to provide quality innings have made him less of an intriguing free agent and more and more of what is a foregone conclusion that he won't return.

Chooch, whose contract expires at the end of this season, presents the Phillies with a bit of a quandary when it comes to potentially re-signing him, due to a combination of his age, talent, potential, and the void he could potentially leave in the organization.

First, his age. He'll be 35-years-old at the start of next season, which means he'll fit right in with the team. It's not that his age is an indicator of anything, but catchers tend to wear down pretty early, so a long-term deal certainly is out of the question for the backstop.

Second, his talent. It goes without saying that Ruiz has been one of the more productive catchers in the game over the past few years, thanks largely to his ability to get on base. From 2009 to 2012, Chooch has a .292/.380/.448 line. He had the second highest OBP among all catchers in that span, and his 14.7 WAR is good enough for third in all of baseball, tied with Brian McCann and behind only Joe Mauer and Yadier Molina. His offensive skillset would be fine for most positions, but it makes him that much more valuable behind the dish. The high-water mark was in 2012, when he clubbed a career high 16 homers to go along with a .935 OPS in ultimately what would be a PED-tainted season. We'll never know if that had any impact on that, but it can't be ignored, either. Regardless, his 25-game suspension, coupled with a series of injuries, have limited his playing time in 2013, and he's managed only a .708 OPS and five homers in 89 games. He's played much better as of late, with a .308/.361/.476 line since the beginning of August, so it's difficult to say which Ruiz we can expect next season. Even so, his ability to get on base, coupled with some power, make him a solid offensive option going forward.

Third, the Phillies are left with a considerable hole behind the plate if he doesn't return. It's a hole that is not easily filled, unless Ruben Amaro decides to pony up big bucks for Brian McCann, who is perhaps the best power-hitting catcher on the market. Alternatively, Jarrod Saltalamacchia (who will be 29) could be a good option, but figures to command a long-term deal due to his age. Aside from that, the free agent market is pretty messy.

Of course, the Phillies could look internally to replace Chooch, but again, it's a mixed bag. Erik Kratz doesn't figure to be a long term solution, and it's far too early to look to 24-year-old Cameron Rupp to take over as starter next season. Although they did trade for the young Tommy Joseph last season, a concussion suffered earlier this season has put his future behind the plate in jeopardy.

On top of that, Ruiz knows the position better than anyone in the organization. He can handle the pitchers, he is familiar with their strengths and weaknesses, and he could prove to be an invaluable asset to the younger catchers. You can replace his bat, but you might not be able to replace the rapport that he has with the pitchers.

When you consider all the factors, including the likelihood that Chooch will demand a long-term deal, it really makes the most sense to have him back behind the plate next season. While re-signing a soon-to-be-35-year-old might not sound like a great idea, it's likely the best option for Ruben Amaro and the rest of the front office.