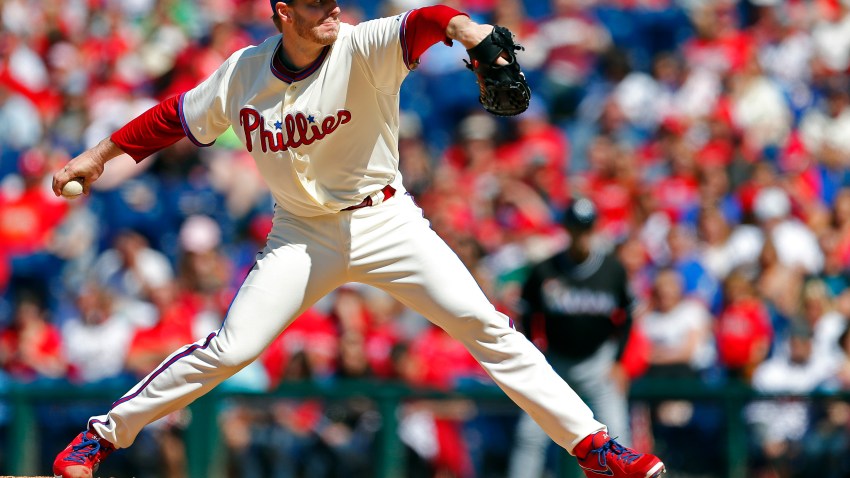 For the most part, good starting pitchers are going to be good just about every time they take the hill. That's not exactly earth-shattering analysis, but you pretty much know what you expect when an ace toes the rubber every fifth day. Sometimes, though, even an ace can toss up a lemon and allow six runs over four poorly pitched innings. It happened this year, it happened last year, and God willing and the creeks don't rise, it will keep happening from now until the end of time.

On Sunday afternoon, Roy Halladay turned in one of those starts – starts that we once would have shrugged off as an anomaly - when he allowed nine runs over two and a third innings to the Miami Marlins. He gave up five runs in the first inning thanks to a pair of walks, a hit batsman, and a pair of hits. After a quick second inning, Halladay started off the third with another hit batsman, followed by a walk, a single, a strikeout, and then a grand slam. Mercifully, his day was done, and he exited the game to a smattering of boos from the crowd at Citizens Bank Park.

Under normal circumstances for Halladay, this would have just been a bad outing; one easily dismissed with a shrug of the shoulders and a "hey, even the best pitchers get roughed up sometimes." Such is not the case this season, as these sort of scorched-earth starts for Halladay are more and more common. Including his start on Sunday, Doc has allowed five or more runs and gone fewer than five innings in four of his seven starts. Not surprising, he and the Phillies are 0-4 in those starts.

He didn't get much help from the offense, as they mustered all of two runs and four hits against the Marlins staff, but that is really pretty irrelevant when you put your team in a 9-0 deficit before they bat for the third time. Besides, the bullpen didn't provide much relief, as three Phillies relievers combined to allow five runs on nine hits the rest of the way. I can think of some pretty bad ways to end a weekend, but losing 14-2 to the Miami Marlins numbers among the worst.

For Halladay, it was yet another start in which he looked utterly and embarrassingly lost. He walked four batters and gave up nine hits, and looked every bit like the pitcher who couldn't get anyone out in so many of his starts last season. To boot, that all came against one of the worst offenses in the game. Coming into Sunday, the Fish were dead-last in the National League in OPS (.599), on-base percentage (.284), home runs (16), and pretty much every other offensive category. In short, they are a horrific offense, and they absolutely teed off on Halladay.

Despite a brief reprieve for three starts in April, things don't appear to be getting any better for Halladay. He's got an 8.65 ERA in seven starts, and he is running out of time to turn it around.