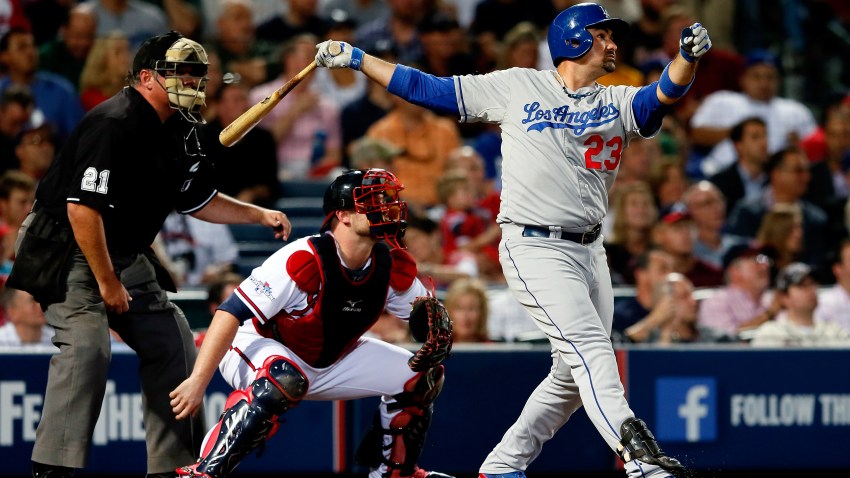 The National League Championship Series is upon us, and like last season, the Phillies are noticeably absent from the proceedings. If you can't stomach watching baseball without the presence of the red pinstripes, then the playoffs this year aren't for you. But if you're like me, then you'll be stuck in front of a television set for the next two weeks, eagerly anticipating the coronation of the new World Series champs.

And if you're the latter, then you'll need to know who to root for. This year, the answer is pretty obvious, but I've put together a guide on which team you should be pulling for in the NLCS.

The Matchup: St. Louis Cardinals versus the Los Angeles Dodgers

The Dodgers and Cardinals are among two of baseball's more storied franchises, with a host of Hall of Famers and World Series titles between them. The Dodgers of Los Angeles via Brooklyn, are the franchise of Jackie Robinson, Sandy Koufax, Vin Scully, and arguably the greatest postseason home run ever hit. They own six World Series titles, the last of which came in 1988.

The Cardinals are not without their fair share of success, thanks to a pair of championships in the last decade, making it 11 total for the franchise. They, too, have a slew of renowned Hall of Famers to call their own, including Stan Musial, Ozzie Smith, Rogers Horsnby, and Bob Gibson. Behind the mic for so many years was Jack Buck, who, along with Vin Scully, occupies the rarified air of great broadcasters.

As far as franchises go, it's hard to get a better matchup than St. Louis and Los Angeles. But this is not about a franchise, it's about the 2013 team, and how their current rosters shake out.

The Dodgers, who underwent a drastic ownership change in the last year, are in part owned by Magic Johnson, who – I believe – dabbled in athletics earlier in his career. Maybe football? I can't quite remember. Anyhow, he's a magician who is now running a baseball team. Neat! Sometimes I wish David Copperfield would buy the Phillies, just so he could make Ryan Howard's contract disappear.

Anyhow, the Dodgers are flush with cash, and they had no trouble demonstrating that last season, when they acquired Josh Beckett, Carl Crawford, and Adrian Gonzalez from the Boston Red Sox for James Loney and a handful of minor leaguers. They continued their spending spree in the off-season, when they signed free agent pitcher Zack Greinke and Korean pitcher Hyun-jun Ryu.

That didn't to them a lot of good early on, as they found themselves nearly ten games out in the middle of June. They turned their season around, however, in part thanks to the emergence of rookie Yaisel Puig, who showed up and hit .391 with 19 homers the rest of the way, and – to the ire of many – appeared to have fun doing so.

On the hill, they have likely Cy Young winner Clayton Kershaw, who might just be the greatest pitcher on the planet right now. Behind him is Greinke, Ryu, and closer Kenley Jansen.

The Cardinals, on the other hand, are the organization that you love to hate, mostly because they are so good at being an organization whose job it is to win baseball games. They churn out players like some kind of talent mill, and it seems like they have a fresh batch of young arms at their disposal every season. It's irritating how good they are at scouting and drafting and Molinaing.

Unlike the Dodgers, the Cardinals have been in the thick of it from the jump, and finally made their move in late September to secure their third straight playoff berth. While they lack the starpower of the Dodgers, they have a solid offense consisting of Yadier Molina, Matt Holliday, Carlos Beltran, and Matt Carpenter, to go along with a young pitching staff anchored by Ace Adam Wainwright.

From a statistical standpoint, the teams are pretty evenly matched. Their offenses are very similar, as they have a handful of power hitters and a lineup of talent that is able to work a count when they need to. The Dodgers performed better this season on the mound, but the Cardinals have a stable of young starters and relievers that is hard to top.

As for former Phillies, the Cardinals used to employ Ty Wigginton, while the Dodgers currently call Michael Young their own. Advantage Dodgers, who most certainly have used Young's leadership to cruise to a National League west title.

It's a pretty evenly matched contest, both at the plate and on the mound. But, you should really be rooting for the Dodgers. Why? Despite being a premier Major League franchise with deep pockets, there is enough talent on this big-market team to make them downright likable, and with a World Series drought over two decades, it's safe to say that they're due. More importantly: they aren't the St. Louis Cardinals.