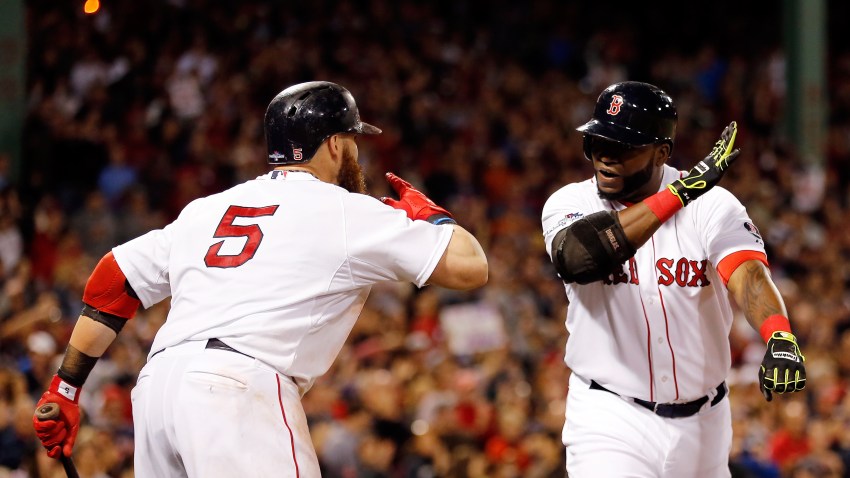 With the opener of the National League Championship Series in the books (and continuing on Saturday afternoon), it's time to turn our eyes upon the Junior Circuit to see which team will be representing the American League in the World Series.

The Matchup: Boston Red Sox versus Detroit Tigers

Like their National League counterparts, both franchises have a fair bit of history associated with them, and are no strangers to having Hall of Fame players in their ranks. The Red Sox, most notably, are the franchise of Babe Ruth before he was Babe Ruth, as well as Ted Williams (perhaps the greatest hitter of all time), Carl Yastrzemski, and Carlton Fisk. They own seven World Series titles, with two coming in the past decade after a drought that you may have heard of.

Detroit, meanwhile, called Ty Cobb their own, as well as legendary announcer Ernie Harwell, and Hall of Fame manager Sparky Anderson, who skippered the 1984 squad to the World Championship. Their franchise gets less ink than Boston's, but they are no less an important part of the fabric of baseball. While they haven't won a World Series title in nearly 30 years, they've won the American League pennant twice in the last decade (including last season), but came up short in both instances.

The Red Sox, who are perhaps the most hirsuite team in all of baseball, are an organization that is run in very much the same manner of the Oakland Athletics or Tampa Bay Rays, in that they seek value in areas where other teams might not. The big difference, though, is that they have the fourth largest payroll in the game, which gives them a distinct advantage over the smaller market teams. However, that doesn't take away from the fact that they are one of the most well-run organizations in baseball when it comes to front office management. Their first place finish in 2013 led to their first playoff berth since 2009, and is one year removed from a hilarious season where they hired Bobby Valentine, and two years removed from one of the most notable last-season collapses in recent memory.

That is in the past, and this 97-win team has proven to be among the best in the game, thanks in part to the best offense in the American League. Their lineup is head and shoulders above the rest of the league in most offensive categories, due to their ability to get on base and hit for power. On offense, they are lead by the ageless David Ortiz, who clubbed 30 homers and led the team with a .959 OPS. Behind him are first baseman Mike Napoli, outfielders Daniel Nava, Shane Victorino, and Jacoby Ellsbury, along with second baseman Dustin Pedroia. It's a relentless lineup that gives opposing pitchers fits.

On the mound, they've been less successful, but still possess enough pitching acumen to keep things within striking distance for the offense. Their starting corps of Jon Lester, John Lackey, Jake Peavy, and Clay Buchholz is solid, but their bullpen is where they really get things done, with a stable that consists of closer Koji Uehara, as well as relievers Junichi Tazawa and Craig Breslow.

While the Tigers cannot match the Red Sox in offensive firepower, they sure do come close. Their offense ranked second in the American League in OPS, OPS+, OBP, and SLG. A lot of the credit for that goes to Miguel Cabrera, who is on the cusp of winning his second straight MVP award. Behind him are Prince Fielder, veteran Torii Hunter, Victor Martinez, and Jhonny Peralta. It is worth noting that Cabrera has been nursing a groin injury throughout the playoffs, which significantly lessens his impact in the lineup.

On the hill, the Tigers have a distinct advantage. Their pitching staff was among the best in the league this season, thanks to a rotation that consisted of Justin Verlander, Cy Young candidate Max Scherzer, as well as 29-year-olds Doug Fister and Anibal Sanchez.

When it comes to hitting, the Red Sox have an advantage, while the Tigers have the edge when it comes to pitching. They say that pitching wins championships, but it's hard to slow down an offense like the one that the Sox possess.

As for former Phillies, the Red Sox currently employ Shane Victorino, who is enjoying a very nice season in his first year with Boston. A switch-hitter for his entire career, Victorino has started to hit exclusively from the right side due to an injury suffered earlier this season. That has resulted in one of the best season's of the outfielder's career. Victorino, always a fan favorite in Philly, makes the Red Sox very easy to root for.

If you're not a fan of teams buying their championships, then this matchup might not be for you, as both teams spend a boatload of money on talent. But, they are not without a great deal of talent that is fun to watch. If you enjoy a more statistical approach to building a team, then the Sox are for you, ditto if you like cheering for former Phillies. But, if you want the success to be more spread around, then put your money on Detroit, who has gone nearly 30 years without a World Series title.

Game one starts on Saturday night, with first pitch slated for 8:07.