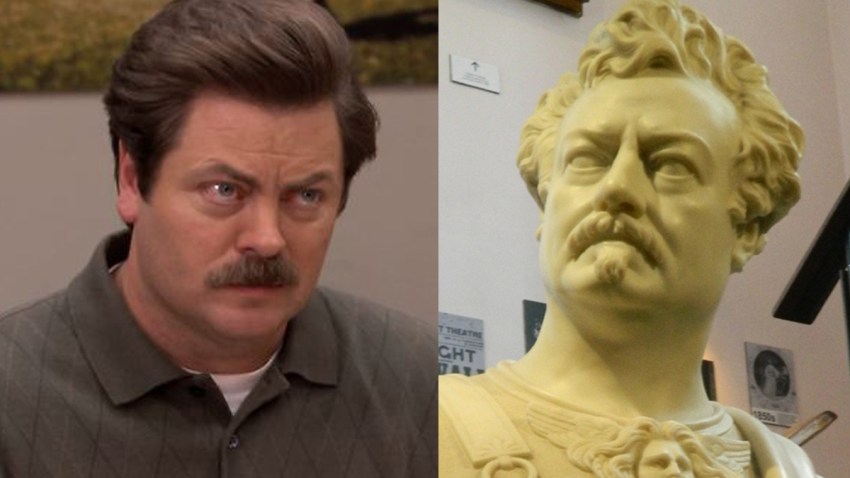 The rarest jewel of Philadelphia may not be the 'Rocky' Statue anymore. Or you might say it now has a contender.
How about a statue of actor Nick Offerman, a.k.a. Ron Swanson?
Well, the statue at the Walnut Street Theatre isn't actually of the "Parks and Recreation" star, but of a famous Philadelphia actor that bears a strange resemblance to him.
The statue of Edwin Forrest adorns one of the main rooms of the Walnut Street Theatre. Communications manager Amy Rodgers says it was made in the 1860s.
Local
Breaking news and the stories that matter to your neighborhood.
Though the statue has been at the theatre for some time, somebody posted a picture of it on the popular website Reddit, with the blurb, "I found a majestic marble sculpture of Ron Swanson at the Walnut Street Theatre in Philly." From there, the Ron Swanson statue story took off, popping up on Twitter, Facebook, and other social media sites.
Forrest made his debut at the Walnut Street Theatre when he was 14 years old, and is viewed as some critics as one of the greatest actors of the era. He was also connected to two major scandals. One, which involved a dispute with an English actor incited a riot in New York City where the militia was called out and 22 people were killed. A few years later, Forrest made headlines when he sued his wife for adultery. He lost but couldn't move on. He appealed that decision for nearly two decades and spent most of the rest of his life alone in his grand home.
Offerman hasn't been to the theatre to see his doppelganger, but Rodgers hopes that he'll come by to check it out.