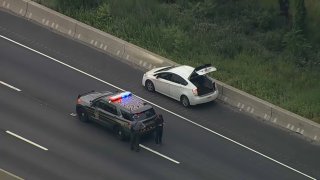 A road rage shooting shut down a portion of I-76 eastbound in Philadelphia during rush hour Wednesday evening.
Police said a white Prius was struck by gunfire around 6:30 p.m. near the Montgomery Drive exit on I-76 East. Fortunately, no one was injured during the shooting.
I-76 eastbound was closed between the Montgomery Drive and the Route 1 exits for several hours as police investigated. The lanes later reopened Wednesday night.
Police have not released information on any suspects or the gunman's vehicle. 
This story is developing. Check back for updates.