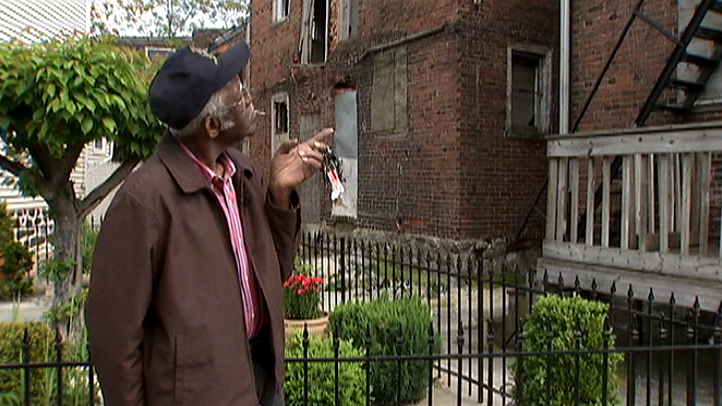 North Philadelphia residents say they're living with a dangerous situation in their neighborhood and are desperate for help. That situation is an abandoned building on the 5500 block of Baltimore Avenue. Residents claim the building has been abandoned for 10 years and that it needs to be torn down before it collapses. Yet while the residents say they've reached out to city officials, they claim they've provided little help.
George Jeffers, 83, who has lived in the neighborhood for 40 years, showed NBC10 the poor conditions of the building. The walls of the building are made up of bricks on the verge of crumbling and spilling over. Jeffers told NBC10 he has to constantly stop children from running up the steps of the building due to the danger. Other residents, who wanted to remain anonymous, also told NBC10 something needs to be done.
The complaints come in the aftermath of the deaths of two Philadelphia firefighters who were killed after an abandoned building collapsed in Kensington. In many cases, city officials respond to dangerous abandoned buildings by tearing them down and charging the owners.
Local
Breaking news and the stories that matter to your neighborhood.
"Why are they destroying our neighborhood?" asked Bobby Henon of Philadelphia City Council. "Why are they keeping our neighborhoods unsafe?"
Henon is spearheading a new bill to create a special taskforce to crack down on dangerous abandoned properties.
"This is certainly to hold people responsible for neglecting their properties whether they live in the city or out of the city," said Henon.
City officials say the Department of Licenses and Inspections is solely responsible for tracking down the owners of hazardous abandoned buildings. When contacted by NBC10, L&I claimed they recently fined the owner of the property on Baltimore Avenue and gave him 30 days to tear it down before they did it themselves. But Jeffers claims he'll believe it when he sees it.
"I don't know," said Jeffers. "I don't know what they are going to do with it."