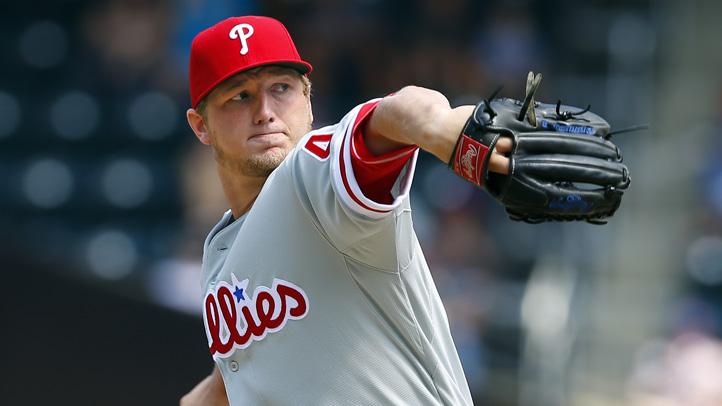 When Ethan Martin made his Major League debut last month, it wasn't anything special. He allowed six runs in 4.1 innings of work against the Atlanta Braves on eight hits, three walks, and a pair of home runs. Perhaps it was jitters, or too much adrenaline, but he looked like a guy who got lost on the way to the ballpark, as he was handed a loss in the first start of his career.

But if there is one thing that stuck out in that otherwise forgettable start, it's that Martin sure did know how to strike out Major League batters. He earned six on the day, which is impressive, even if it was against the strikeout heavy Braves lineup. Striking out big league hitters is no easy task, after all. "Mostly forgettable, but punctuated with a bunch of strikeouts" was a common theme during most of Martin's seven starts, which usually never lasted past the fifth inning.

So, it was no surprise when Martin was pulled from the rotation and moved into the bullpen. His inability to go deep into games made him a liability in the rotation, especially when it became more and more clear how worn down he became as the innings wore on. However, his ability to strike out opposing hitters made him an ideal candidate for the bullpen. And here we are.

It's been over two weeks since Martin has made the transition from starter to reliever, and by all accounts, it has been a good one. In six appearances out of the bullpen, Martin has a 3.00 ERA, with nine strikeouts in six innings of work. He's allowed fewer than two base runners in five of his six appearances, and he's kept opposing teams off of the scoreboard in five of them.

Of course, we are dealing with a very small sample size here, and his opponents haven't been anything worth writing home about. He's faced the San Diego Padres twice, the Miami Marlins three times, and the New York Mets once. It's not exactly a murderer's row. Had he done the same against the St. Louis Cardinals, Cincinnati Reds, and Boston Red Sox, then that's another story.

Needless to say, it's been (so far) a very good transition to the bullpen for the young hurler. He's holding opposing hitters to a .614 OPS (as compared to the .908 OPS they tallied against him when he was a starter), and his walks aren't nearly an issue when he is tossing all of one inning.

With any luck, Martin's success in the late innings will continue in 2014, making him one of the better arms in the bullpen. Along with Jake Diekman, Justin De Fratus, and B.J. Rosenberg, the Phillies might have themselves a very young, and very talented relief corps.