Several cities across our region broke or tied records for cold this weekend.
In Wilmington, Delaware, the previous record of 22 degrees for Nov. 11 was broken. The temperature in the city dropped to 20 degrees Saturday morning.
At the Atlantic City Airport, the temperature fell to 21, which broke the previous record of 22 degrees.
In Trenton, the old record of 25 degrees was crushed when the temperature dropped to 21 degrees Saturday morning.
Reading tied its Nov. 11 record of 18 degrees, and Allentown set a new record low at 18 degrees. The previous was 19.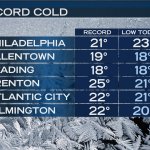 Philadelphia fell short of the previous record of 21 degrees. The temperature fell to 23 degrees officially. Still, it felt like the low teens due to a steady morning breeze.

Across the entire Mid-Atlantic and Northeast regions, the record cold was due to an Arctic blast.
Temperatures are expected to slowly climb in the next several days.