Click here for the latest on the coming storm that is expected to pack a two-part punch.
---
We're beginning to get a clearer picture of how nor'easter No. 4 could impact the Philadelphia region. And if you're over the snow, you should start preparing yourself to be very unhappy midweek.
Local
Breaking news and the stories that matter to your neighborhood.
This latest storm will start to move in during the day Tuesday, the first day of spring, and last through Wednesday, according to the latest forecast models.
We've issued a First Alert for the entire viewing area for Tuesday and Wednesday to help you prepare for heavy wet snow, rain and strong coastal winds that will make travel messy.
The storm system that will develop into the nor'easter was over Kansas as of Monday morning.
Our area likely won't start to see effects until the tail-end of Tuesday's morning commute. It will be a slow starter, NBC10 First Alert Weather meteorologist Bill Henley said.
Our most recent computer modeling shows the storm gathering increased strength and tracking closer to the New Jersey coast, which makes the chances of more significant snowfall likely.
"That may mean heavy snow bands into Philadelphia, I-95, and for many other areas," NBC10 First Alert Weather meteorologist Steve Sosna said.

So how much snow could we see? Here's a breakdown (with the caveat that these anticipated amounts could go up or down as the storm nears):
Zero to 2 Inches
Jersey Shore including Atlantic City; Southern Delaware
2 to 5 Inches
Inland sections of South Jersey; Central Delaware including Dover; Western Chester county; Most of Berks county; Parts of Lehigh Valley including Allentown
3 to 6 Inches or More
Philadelphia; Eastern sections of South Jersey including Cherry Hill and Trenton; Northern Delaware including Wilmington; All of Delaware, Montgomery and Bucks counties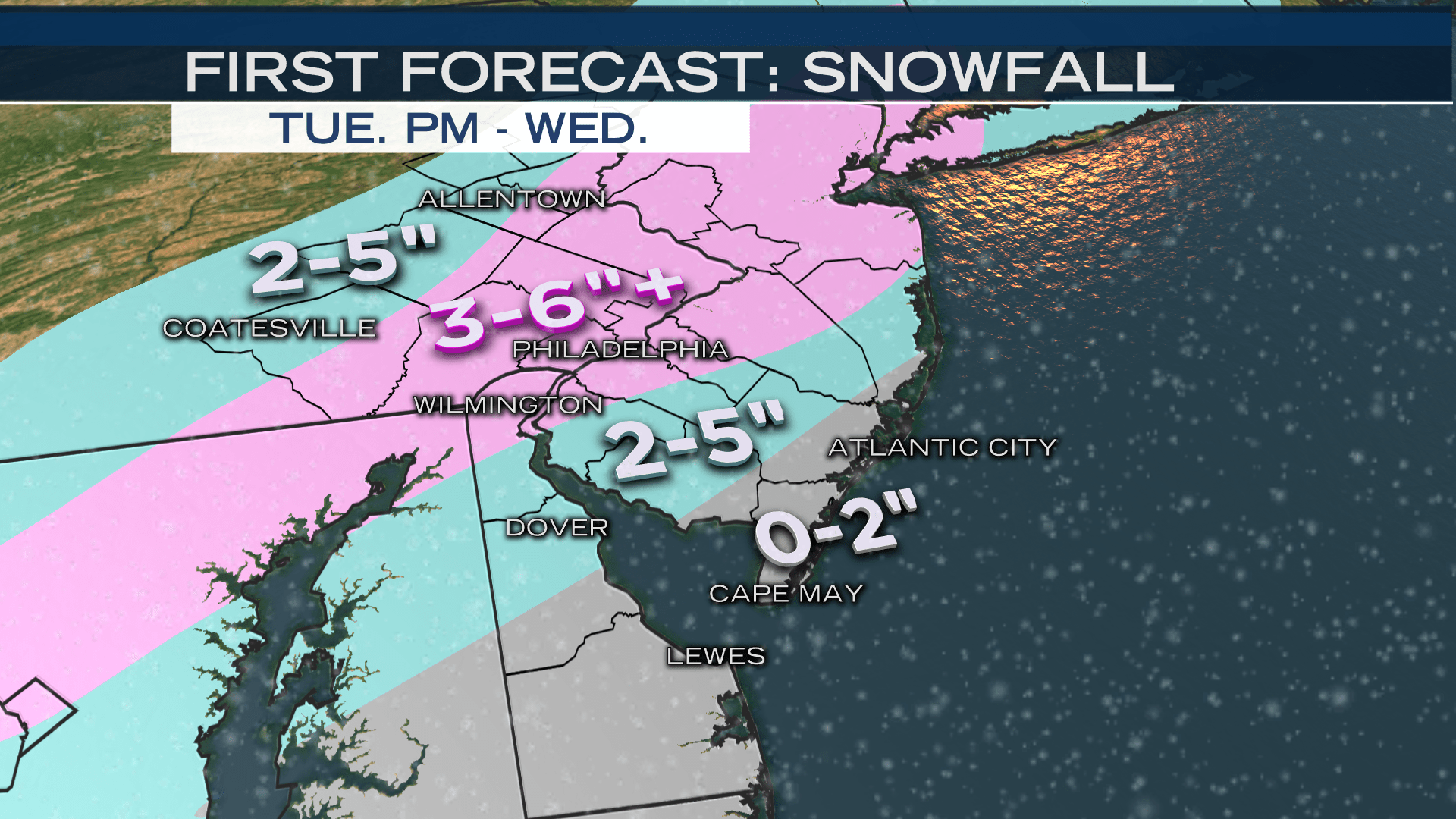 In March, warmer afternoon temperatures, closer sun angles, and warmed roads make it more difficult for snow to stick and accumulate without a high intensity of snowfall.
Besides the heavy, wet snow, 1 to 2 inches of windswept rain is possible along the coast. Winds will also be gusting between 35 and 50 mph at the coast. Inland we could see gusts of 35 mph.
These are all factors that may impact our forecast, however, at this point, we feel confident the timeline includes Tuesday and Wednesday. We also feel confident that regardless of any accumulation, active snowfall during our commutes will lead to messy and inconvenienced travel. On Tuesday, it is less likely that snow will stick to roadways but the Wednesday morning and evening commutes could be messy, Bill said.
Monday is the day to get things done ahead of the storm as it should be clear with high temps around 50.

Keep with us for updates on NBC10 on air and online. We're regularly fine-tuning our forecast as the system begins to head our way.