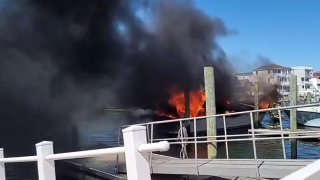 A raging fire on a boat at a Jersey Shore harbor sent plumes of black smoke billowing into the surrounding homes and docks Saturday.
Firefighters initially responded to the fire at around 10:30 a.m. near the 400 block of Montgomery Avenue in Wildwood, threatening nearby waterfront homes and other boats docked in the area.
Initial arriving firefighters were flagged down upon arrival, where they found a burn victim who was brought into a nearby business for assistance.
Video showed firefighters attacking the flames from land before others hopped on a boat and joined in dousing it from the sea. Eventually, they were able to put out the blaze and drag the charred boat away from the dock as it began tilting to one side.
The victim was transported by helicopter Jefferson University Hospital Burn Center in Philadelphia, where he currently is listed in critical condition.
It was not immediately clear what sparked the fire.