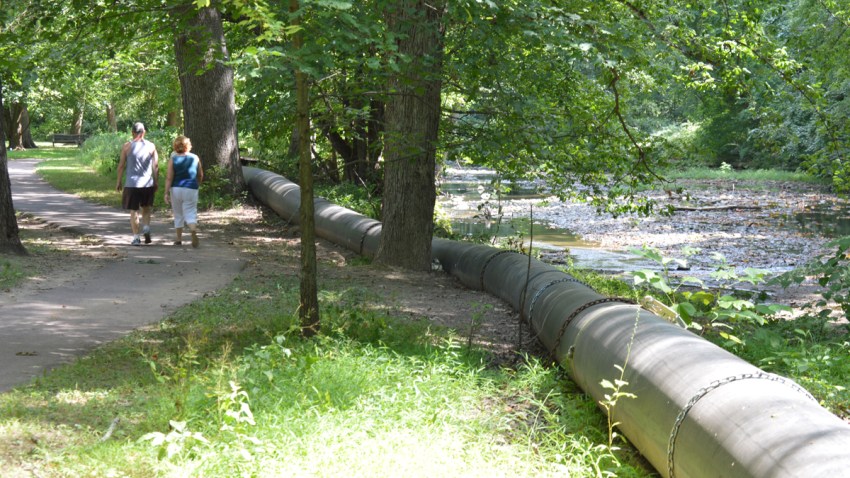 Cheltenham is poised to once again confront its sewer overflow issue as township officials told a large crowd Wednesday night that an ordinance requiring the inspection of all properties' lateral pipes will be re-introduced before Christmas.
The proposed legislation could be introduced publicly as early as Nov. 2 when the Public Works Committee next meets.
It'll be the second time this year that the township has tried to address what the state Department of Environmental Protection has been demanding of Cheltenham -- inspect all private sewer laterals and require property owners to fix pipes found to be faulty.
Local
Breaking news and the stories that matter to your neighborhood.
Unlike the first try in May, however, the time allowed between a failed inspection and the required fix will be considerably longer, Township Manager Bryan Havir and other officials told more than 100 taxpayers who gathered in an auditorium at Cheltenham High School.
"If it is found to have a hole or the pipe is broken and we determine it needs to be addressed immediately, and by immediately, I am referring to the timeframe which a property owner will have to fix, we're still bouncing that number around," Havir said. "But we're trying to make it as fair and flexible in the ordinance as possible. We know that the community is not receptive to the 30 or 60 days initially proposed."
The township has been working for months with the Philadelphia Water Department, which treats Cheltenham's sewage, and the state DEP to bring the township's inflow/infiltration (I/I) -- the amount of storm and ground water that enters sewers -- to levels that don't swamp the system. Too much I/I when combined with sewage can causes overflows, which affect the flow into Philadelphia's treatment facilities and can lead to environmental disasters. In 2014, the state DEP fined Cheltenham $280,000 for a massive overflow three years earlier, NBC10 Investigators reported. The overflow was caused by a harsh winter and compounded by Cheltenham's antiquated sewer system.
Representatives from both the city and state agencies were at the Wednesday night meeting, which went for three hours as numerous residents asked questions of local and state officials.
For more than a decade, the township has been under a state DEP consent decree to upgrade both its sewer mains in the public right-of-way and the nearly century old system of thousands of private laterals that connect homes and businesses to the mains.
The fear for many homeowners has been the cost to replace 90-to-100 year old terracotta laterals, with some estimates running into the five figures.
"You've scared me tonight. I thought it was going to take a credit card to take care of this. And now you're talking about a loan," resident Maxine Carson told officials, to anxious laughter by the crowd. "I'm not going to be able to sell my house."
Havir and others, including DEP regional engineer Jenifer Fields, tried to assuage the concerns about home values and other financial concerns, arguing that a new lateral would add to the value of a house, not decrease from it.
At a recent public hearing held by state Rep. Steve McCarter, who represents Cheltenham, Springfield, Jenkintown and a part of Philadelphia, experts weighed in on the problem of aging infrastructure in older municipalities surrounding Philadelphia.
Some of the panelists said Cheltenham is not unique when it comes to antiquated, faulty sewer pipes.
Cheltenham Commissioner Drew Sharkey, who as chairman of the township's Public Works Committee ran the meeting Tuesday, echoed that sentiment. He also said the township began down the road to improving its entire sewer system in earnest five years ago.
"In 2011, the township started investing significant amounts of your money into the public sewer system," Sharkey told the crowd. "The ordinance we presented in May was too scary. But if we don't address the private portion, the portion that runs from your house to the street, it'll all be for naught."
In conjunction with introducing an overarching ordinance that governs the inspections and upgrades, as well as permitting, fees, and a timeframe for private lateral improvements, Havir said his staff is searching for low-interest loans and state and federal grants to help property owners.
State legislation has also been introduced to address sewer improvements at the municipal level, and group rates for property owners may eventually be established as Cheltenham's ordinance moves closer to adoption.
If the ordinance is introduced in November, Havir said he hopes public hearings could be held before the end of the year. Formal adoption would follow those hearings.