A pregnant woman and her fetus died from after she was shot in the head while inside an SUV in North Philadelphia Thursday afternoon.
Shaliyah Davis, who was 4-months pregnant, was leaving after visiting a family member on the 2500 block of West Berks Street around 2:30 p.m. After the 25-year-old entered a Ford Escape SUV, a gunman walked up to the passenger side, opened the door and fired, shooting her once in the head.
Davis was taken to Temple University Hospital where she was pronounced dead at 6:43 p.m. Her fetus didn't survive.
"Any shooting is a terrible shooting but this continues to escalate the urgency we have to do what we can to stem the violence," Commissioner Danielle Outlaw said.
Police initially said it appeared Davis was the intended target, but after further investigation they said her boyfriend who was exiting the SUV at the time was the target. The boyfriend and the shooter then both fled the scene.
"We are following up on some strong leads and we don't have reason to believe this was a random shooting," Commissioner Outlaw said.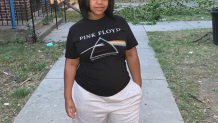 Surveillance video shows two armed men fleeing the scene. One is chasing the other. Police didn't know who was pursuing who in the video.
Local
Breaking news and the stories that matter to your neighborhood.
The woman's relatives were at the crime scene in tears. Members of the Philadelphia Anti-Drug Anti-Violence Network later arrived to help console them.
"This will be the seventh event that we responded to today in the city of Philadelphia in the past two hours," Sam White, a group member, told NBC10.
No arrests have been made.
As of Friday, at least 227 people had been killed in Philadelphia so far this year. The homicide total is the highest at this point dating back to at least 2007 and 28% above where it was last year.
There are additional resources for people or communities that have endured gun violence in Philadelphia. Further information can be found here.