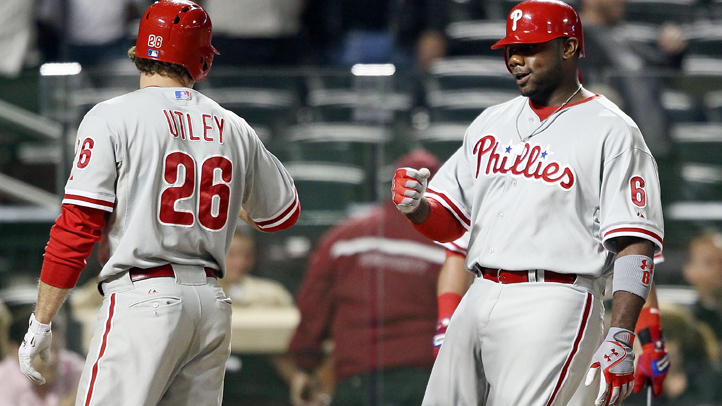 When the Phillies acquired Ben Revere during the off-season, one of the first questions that anyone asked (after "Is he good?") was whether or not his arrival meant the departure of Jimmy Rollins from the leadoff spot. It's a fair question, considering that not only has Revere spent a great deal of time leading off games during his career, but also that Rollins is another year older, and ostensibly, a little bit less suited to leadoff.

While Charlie Manuel hasn't tipped his hand about how the lineup will look come Monday evening, you can reasonable come to two conclusions. Either Jimmy Rollins or Ben Revere will take the first pitch for the Phillies in 2013, or the rest of the lineup will go pretty much as expected. Hard hitting stuff, I know.

Whatever the case may be, the decision to keep or remove Rollins from the leadoff spot is going to have implications further on down the lineup. I've written about putting Revere at the top of the order before, so I won't bore you with that, but I did want to predict how I figure the lineup will be come Opening Day for the Phillies when they take on right-hander Tim Hudson.

CF Ben Revere
SS Jimmy Rollins
2B Chase Utley
1B Ryan Howard
3B Michael Young
LF Domonic Brown
RF Laynce Nix
C Erik Kratz
P Cole Hamels

There are no real surprises here, especially once we get past the first two batters. Utley and Howard have been the go-to 3-4 hitters for ages, and Michael Young's right-handedness and offensive potential makes him an easy choice for the number five spot in Charlie Manuel's lineup. Domonic Brown's hot spring will make him the starting left-fielder, but he'll probably be sticking around in the six spot for most of the season. We can assume that Nix and John Mayberry will alternate depending on the starting pitcher, and Kratz figures to get more starts over Humberto Quintero until Carlos Ruiz returns from his suspension.

This lineup figures to be pretty much the standard over the first month of the season, or at least until Ruiz returns. When that happens, that gives Charlie a lot of options when it comes to structuring the lineup. Ruiz's great on-base percentage would play very well at the top of the lineup, but his 2012 performance might make Manuel more likely to put him in the fifth hole. At any rate, there is no shortage of possible lineup combinations for the Phillies this season. The only question, now, is whether or not they will be able to score any runs.