Police announced a third arrest in a botched robbery that left two suspects dead in Reading, Berks County. Meanwhile, with news surfacing that officials don't plan on releasing the surveillance video of the incident, friends and family of the alleged robbers are speaking out.
On Monday, around 2 p.m., police say 18-year-old Robert DeCarr and 24-year-old William Medina, entered the Krick's Korner store on Kutztown Road and Moss Street.
Police say the men stole cash, cigarettes and lottery tickets. As they left the store, investigators say a friend of the owner who was working nearby confronted the two men.
"He told these individuals to stop and that he was calling the police," said Berks County District Attorney John Adams.
Adams says DeCarr and Medina then pointed their guns towards the man, leading to a brief scuffle. Unbeknownst to the suspects, police say the man was also armed with a gun. The man pulled out his weapon and shot both suspects in the chest, according to officials.
The wounded robbers then stumbled out of the store, according to investigators.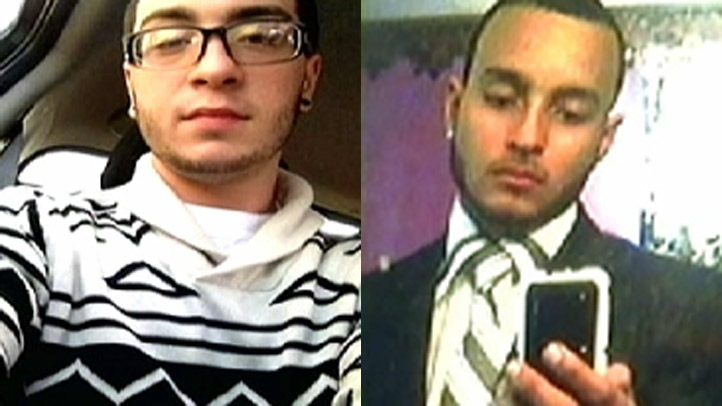 One suspect collapsed just outside the front door of the store while the other collapsed 10 to 15 feet down the sidewalk. They were both pronounced dead at the scene.
Detectives say surveillance video captured the incident which led them to a third suspect, 21-year-old Alexander Garcia-Balek. Police say Garcia-Balek served as the getaway driver.
(Pictured: L to R, 18-year-old Robert DeCarr and 24-year-old William Medina)
"He was arrested late last evening," said Adams. "He was charged early this morning with robbery, conspiracy to commit robbery and second degree murder."
Local
Breaking news and the stories that matter to your neighborhood.
Police questioned the man who shot the two suspects and later released him. Adams says he will not be charged with any crime.

"In this situation, the concerned citizen acted in the confines of the law," Adams said. "He used justifiable force."
On Tuesday, Adams also claimed that the man likely prevented future crimes.
"He probably prevented some further crime from occurring," Adams said. "These individuals probably would not have stopped with just one robbery."
Adams also says at this point officials don't plan on releasing the surveillance video since they are no longer looking for suspects.
A day after their deaths, family and friends of DeCarr and Medina set up a memorial for the two men and claimed they weren't the monsters some are portraying them to be.
"They're downgrading him as a lowlife hoodlum," said Cynthia Matos, Medina's cousin. "He was a father of his kids, honest guy and loyal son to his mother."
"He just made a mistake, you know?" said Robert DeCarr's older sister Taylor DeCarr. "He got caught up in this crazy a** world and society and wasn't thinking. Everyone is saying stuff about my brother but they don't really know him! We just want him to rest in peace."
With the growing memorial and reaction from those who knew the two men, Adams says he's now worried about possible revenge against the concerned citizen who killed them.
"They would potentially retaliate against the owner or concerned citizen who used deadly force in this incident,' he said.
One man, who says he was once a victim of Medina, claims the two men got what they deserved.
"Everyone was saying he's an angel," said Robert Hertzog. "But he's not an angel."
Hertzog says he complained about Medina back in 2011 about him racing his car, which then led to a confrontation.
"He was speeding up and down our alley and I stopped him and told him to slow down and not hit the little kids," Hertzog said. "And they came back and beat me up five minutes later with a baseball bat and a hammer!"
Hertzog says Medina was convicted of aggravated assault in his case and that he has no sympathy now.
"He got what he deserved," Hertzog said. "He was a criminal before and he came out and did it again."